01.12.2015 | Study protocol | Ausgabe 1/2015 Open Access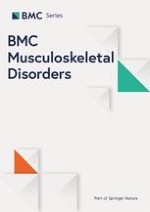 A multi-center, double-blind, randomized, placebo-controlled trial protocol to assess Traumeel injection vs dexamethasone injection in rotator cuff syndrome: the TRAumeel in ROtator cuff syndrome (TRARO) study protocol
Zeitschrift:
Autoren:

Luc Vanden Bossche, Guy Vanderstraeten
Wichtige Hinweise
Competing interests
Luc Vanden Bossche (LVB) is a consultant/advisor to the Traumeel Scientific Advisory Board for Biologische Heilmittel Heel GmbH. LVB is receiving honorarium for work on this study. LVB and has received honoraria for giving scientific talks on behalf of Biologische Heilmittel Heel GmbH. Guy Vanderstraeten (GV) is a consultant/advisor to Biologische Heilmittel Heel GmbH.
Authors' contributions
LVB is principal investigator. LVB contributed to the overall design of the study and helped draft the protocol. GV is the medical advisor in the study. GV contributed to the overall design of the study and helped draft the protocol. All authors revised the manuscript critically for important intellectual content and have given final approval of the version to be published.
Authors' information
LVB: I have been treating patients with musculoskeletal injuries for over 10 years. In this time the number of patients presenting to me who are unable to use NSAIDs, corticosteroids or other traditional medications has increased. This is often due to contraindications and intolerance to the products. As a physician, I would like to offer my patients an alternative option that is both safe and effective. I have participated in this trial in the hope that Tr14 injection solution may provide such an option.
Abstract
Background
Shoulder pain is a common musculoskeletal symptom with a wide range of potential causes; however, the majority of conditions can be managed with conservative treatment. The aim of this study is to assess the efficacy and safety of Traumeel injections versus corticosteroid injections and placebo in the treatment of rotator cuff syndrome and bursitis and expand the current evidence base for the conservative treatment of rotator cuff syndrome.
Methods/Design
This is a multi-center, randomized, double-blind, 16-week, three-arm, parallel-group, active- and placebo-controlled trial to assess the efficacy and safety of Traumeel 2 ml injection versus dexamethasone 8 mg injection versus placebo (saline solution). Patients will be randomly allocated to Traumeel, dexamethasone or placebo in a 2:2:1 randomization. After 1 week screening, patients will receive 3 injections at weekly intervals (days 1, 8 and 15) with additional follow-up assessments on day 22, a telephone consultation in week 9 and a final visit at week 15. Male and female patients aged 40 to 65 years, inclusive, will be recruited if they have acute episodes of chronic rotator cuff syndrome and/or bursitis. Patients with calcifications in the shoulder joint or a complete rotator cuff tear will be excluded. At least 160 patients will be recruited. All subacromial injections will be performed under ultrasound guidance utilizing a common technique. The only rescue medication permitted will be paracetamol (acetaminophen), with usage recorded. The primary endpoint is change from baseline in abduction-rotation pain visual analog scale (0–100 mm scale, 0 corresponds to no pain and 100 to extreme pain) at day 22 (Traumeel injections versus dexamethasone injections) for active external rotation. Secondary efficacy parameters include range of motion, disability of arm, shoulder, hand score and patient's/investigator's global assessment. Clinical efficacy will be assessed as non-inferiority of Traumeel with respect to dexamethasone regarding the primary efficacy parameter.
Discussion
It is hoped that the results of this trial will expand the treatment options and evidence base available for the management of rotator cuff disease.
Trial registration
ClinicalTrials.gov:
NCT01702233
. EudraCT number: 2012-003393-12.