01.12.2018 | Study protocol | Ausgabe 1/2018 Open Access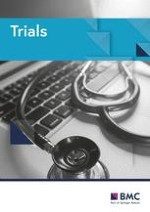 A multi-center, randomized controlled clinical trial, cost-effectiveness and qualitative research of electroacupuncture with usual care for patients with non-acute pain after back surgery: study protocol for a randomized controlled trial
Zeitschrift:
Autoren:

Byung-Cheul Shin, Jae-Heung Cho, In-Hyuk Ha, In Heo, Jun-Hwan Lee, Koh-Woon Kim, Me-riong Kim, So-Young Jung, Ojin Kwon, Nam-Kwen Kim, Haeng-Mi Son, Dong-Wuk Son, Kyung-Min Shin
Wichtige Hinweise
Electronic supplementary material
Abstract
Background
Although pain after back surgery is known to be difficult to control, various treatment options are available to patients and physicians. A protocol for a confirmatory randomized controlled trial (RCT) on pain and function after back surgery was designed based on the results of a pilot trial. The aim of this study is to compare the effectiveness and safety of electroacupuncture (EA) with usual care (UC) versus UC alone on pain control and functional improvement after back surgery.
Methods/design
This study is a multi-center, randomized, assessor-blinded trial with an active control conducted in conjunction with a cost-effectiveness analysis and qualitative research. Participants with non-acute low back pain with or without leg pain after back surgery who have a Visual Analogue Scale (VAS) pain intensity score ≥ 50 mm will be randomly assigned to either the EA with UC group (n = 54) or the UC group (n = 54). Following randomization, participants in both groups will receive the same UC treatment twice a week for a four-week treatment period. Participants assigned to the EA with UC group will additionally receive EA twice a week for the same four-week period. The primary outcome measure will be assessed using a VAS pain intensity score for low back pain. The secondary outcomes will include the Oswestry Disability Index, EuroQol 5-Dimension score, and drug intake. The primary and secondary outcomes will be measured at one, four, and eight weeks post randomization.
Discussion
The results of this study will provide evidence of the effectiveness and cost-effectiveness of EA in managing postoperative pain following back surgery. In addition, the qualitative research results will help improve the quality of integrative medical interventions.
Trial registration
Clinical Research Information Service (CRIS), Republic of Korea,
KCT0001939
. Registered on 8 June 2016.