18.11.2019 | Clinical Study | Ausgabe 1/2020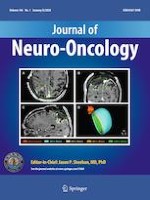 A multi-institutional analysis of clinical outcomes and patterns of care of 1p/19q codeleted oligodendrogliomas treated with adjuvant or salvage radiation therapy
Zeitschrift:
Autoren:

Alexander J. Lin, Liam T. Kane, Jason K. Molitoris, Deborah R. Smith, Sonika Dahiya, Shahed N. Badiyan, Tony J. C. Wang, Tim J. Kruser, Jiayi Huang
Wichtige Hinweise
Electronic supplementary material
Publisher's Note
Springer Nature remains neutral with regard to jurisdictional claims in published maps and institutional affiliations.
Abstract
Purpose
Practice patterns vary for adjuvant treatment of 1p/19q-codeleted oligodendroglioma patients. This study evaluates the outcomes of adjuvant (aRT) versus salvage radiation therapy (sRT) in a multi-institutional cohort.
Methods
Oligodendroglioma patients with confirmed 1p/19q codeletion who were treated with RT with or without chemotherapy from 2000 to 2017 at four tertiary centers were retrospectively reviewed. Overall survival (OS), post-RT progression-free survival (PFS), freedom-from-RT (FFRT), and radiation necrosis (RN) rates were determined using Kaplan–Meier analyses. OS1/PFS1 were defined from the initial surgery. OS2/PFS2 were defined from the RT start-date. Multivariable analyses (MVAs) of prognostic factors for OS and PFS were performed with Cox regression.
Results
One hundred eighty-six patients were identified: 124(67%) received aRT and 62(33%) received sRT; of sRT patients, 58% were observed after surgery while 42% received chemotherapy without aRT. The median time from initial diagnosis to sRT was 61 months, and 74% had reoperations before sRT. sRT had longer OS1 than aRT (94% vs. 69% at 10 years, p = 0.03) and PFS1 (10-year PFS of 80% vs. 68%, p = 0.03), though sRT was not associated with significantly different OS1/PFS1 on MVAs. Chemotherapy did not delay sRT compared to observation and had worse PFS2 (42% vs. 79% at 5 years, p = 0.08). Higher RT dose was not associated with improved clinical outcomes but was associated with higher symptomatic RN rate (15% vs. 0% at 2 years, p = 0.003).
Conclusions
Delaying RT for selected oligodendroglioma patients appears safe. Adjuvant chemotherapy does not delay sRT longer than observation and may be associated with worse PFS after RT.