01.12.2013 | Study protocol | Ausgabe 1/2013 Open Access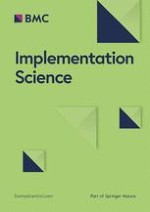 A multi-level system quality improvement intervention to reduce racial disparities in hypertension care and control: study protocol
Zeitschrift:
Autoren:

Lisa A Cooper, Jill A Marsteller, Gary J Noronha, Sarah J Flynn, Kathryn A Carson, Romsai T Boonyasai, Cheryl A Anderson, Hanan J Aboumatar, Debra L Roter, Katherine B Dietz, Edgar R Miller III, Gregory P Prokopowicz, Arlene T Dalcin, Jeanne B Charleston, Michelle Simmons, Mary Margaret Huizinga
Wichtige Hinweise
Electronic supplementary material
The online version of this article (doi:
10.​1186/​1748-5908-8-60
) contains supplementary material, which is available to authorized users.
Competing interests
The authors declare that they have no competing interests.
Authors' contributions
LC, GN, RB, CA, HA, DR, EM, GP, AD, JC, MS, and MH conceived of and designed the study. LC, JM, GN, KC, RB, HA and MH participated in the analysis and interpretation of data. KC provided statistical expertise. LC, JM, SF and KD drafted the article. All authors read and approved the final manuscript.
Introduction
Critical health disparities exist between African Americans and their white counterparts in the United States. Cardiovascular disease accounts for more than one-third of the differences in life expectancy between African Americans and whites [
1
]. This disparity is largely attributed to hypertension and poor blood pressure control [
1
,
2
]. In population-based surveys, African Americans compared to non-Hispanic whites are more likely to have hypertension, are treated less often, and have lower rates of blood pressure control when treated [
3
,
4
].
The pursuit of remedies for these disparities between African Americans and whites has uncovered multi-factorial sources of the problem, including barriers to access, adherence and guideline compliance at the patient, provider, healthcare system, and community levels. The fundamental questions of which factors to address and how to address them are difficult to answer. Although interventions to date may address one or another source of disparities [
5
–
7
], few if any have intervened on multiple actors in the system: patients, clinicians, healthcare organizations and communities. Further, even successful interventions to reduce disparities may not be sustained past the end of the research funding. Interventions may ultimately fail when: the intervention was not adapted well to the organization where it was implemented; clinicians did not endorse the intervention; patients and their families were not actively engaged; or the communities where patients live posed so many challenges that patients could not maintain adherence to the intervention over time. Interventions are more likely to be sustained if they can answer such questions as: Do the patients, families, and clinicians understand the intervention? Is it relevant to what they care about? Does it address the adherence barriers they face? Does the intervention fit the local organization where it is being implemented?
The impracticality of standardizing every aspect of healthcare delivery makes the classic randomized controlled trial challenging to conduct in real world settings. Thus, we applied a pragmatic trial design to test whether racial disparities in blood pressure can be improved in six community practices in Baltimore, Maryland. Using this pragmatic approach with concepts from Community-Based Participatory Research [
8
], we seek to show effectiveness in uncontrolled, routine clinical care [
9
]. This project realizes the importance of adapting the intervention to specific characteristics of the clinic sites, taking into account clinician attitudes about the intervention, directly addressing patient adherence barriers, and engaging the community to make the intervention more sustainable when the research study is over.
Methods
Study design and specific aims
Data collection, outcome measures, and statistical analysis plan
Discussion
This study aims to reduce racial disparities in blood pressure control and improve guideline concordant hypertension care by implementing a multi-level system quality improvement intervention. Because we have applied a pragmatic trial design, our interventions take place within existing clinic practices. In this discussion, we describe the changes we made to the intervention design to meet the needs of local settings and the lessons we have learned so far while implementing the projects.
We worked collaboratively with each clinic site as well as with leaders from the JHCP organization to improve the design of the interventions. Through focus groups and directed interviews, we learned about their concerns regarding certain components of the proposed interventions and we made changes to the intervention design prior to implementation based on their feedback. For example, to avoid interference with patient flow, clinic staff requested that there be at least one blood pressure device for each PCP. They felt that the care management services should have cultural and community relevance. We also learned that physicians preferred the dashboard to be developed in similar format and delivery to existing provider dashboards at JHCP. We responded to each of these suggestions and these changes were incorporated into the intervention design.
In addition to adapting certain elements of the intervention in direct response to specific clinic needs, it has also proven important to work with local champions throughout the implementation process. Prior to introducing the automated blood pressure devices, we identified one MA at each site as a 'super-user' These MAs not only encouraged their co-workers to follow the new protocol for measuring blood pressure, but they also served as liaisons between the research and clinic staff. In the care management intervention, we chose to have PharmDs who were already familiar with the clinical practices serve as part of the intervention team. They suggested that a triage system be created that would allow the patients with the most uncontrolled blood pressures to see the PharmD first to focus on issues of medication adherence. Their knowledge of the patient populations served at each clinic and their established relationships with clinic staff helped to improve uptake of the care management intervention.
We introduced the interventions in the context of other studies and other health system changes that were taking place at the clinics. Although we took steps in the development phase to incorporate site-level feedback, understand the organizational climate, and anticipate barriers to change, certain site level factors required us to make adjustments after initial implementation of the interventions. For example, in response to challenges with patient recruitment in the care management intervention at the first clinic, we adjusted our scheduling approach to better meet patient and provider needs. Instead of identifying patients only through the electronic patient registry, care managers also began to utilize direct referrals from providers. In particular, care managers found it more effective to focus their efforts on recruiting patients who are already present in the clinic for other appointments, instead of depending on reaching patients by phone. Responding to provider feedback, care managers now hold sessions with patients immediately before scheduled appointments with their PCP and also offer evening appointments once a week.
We underestimated the demand for additional site level support to assist with overcoming workflow and time management issues after the introduction of the automated devices in the blood pressure intervention. We also discovered the need to collect qualitative and quantitative data to determine if sites were adhering to the established protocol. Responding to these concerns, research staff members were able to offer time-saving techniques, monitor adherence to the protocol, and assist with device maintenance through weekly visits to each of the clinic sites. Additionally, we developed instructional videos to ensure that new clinic staff members are trained in the protocol for proper use of the automated devices.
Many of our initial challenges involved restrictions with data access and slow information technology (IT) development. Our initial approach required clinical data to be transferred from the practices' EMR to the research team for further analysis to define eligible patients and outcome data. With this approach, we had difficulties obtaining the data we needed in a usable and timely fashion. In addition, delays in the development of the dashboard website pushed back the rollout of the provider education intervention. We eventually moved to an approach that better utilizes the strengths of the community-based practice organization, which has an extensive history of utilizing EMR data to improve clinical quality. The community-based organization became responsible for more of the data abstraction, leveraging their experience with the nuances of their system. Partnering more extensively with members of the organization's IT department helped to speed the data retrieval and dashboard development processes. The anticipated introduction of a new EMR system across the entire organization in 2013 highlights the importance of continuing to develop these relationships throughout the duration of the project.
Limitations of the study deserve mention. First, it is not mandatory for physicians to view the communications skills training sessions or utilize the elements on the dashboard. This may result in reduced uptake and a potential dilution of the overall effect of the provider education intervention. Additionally, the care management intervention may not be intensive enough to encourage sustained behavior change if patients do not attend all three sessions. Furthermore, in the blood pressure measurement intervention, we are making every attempt to collect high quality data, but are primarily relying on self-reports and qualitative measures to assess adherence to the blood pressure measurement protocol. This will limit the precision with which we can examine adherence. The main limitation for the organizational assessments is that some of our measures will only be collected once, so we will not know how these have changed over the course of the intervention. However, other organizational measures will be collected multiple times, for both intervention and non-intervention sites, allowing estimation of change over time and relative to an unexposed group. Lastly, in a complex healthcare delivery system, additional system-wide or practice-based quality improvement efforts may confound the results, for example, efforts to meet the 'meaningful use of EMRs' metrics may improve health system-patient communication. Because data will be evaluated on the system level, other unanticipated factors, in addition to unique clinic level issues, could limit the study's ability to detect changes in our desired outcomes.
In conclusion, Project ReD CHiP is a multi-faceted, multi-level intervention that targets patients, clinicians, the healthcare organization, and the community to improve hypertension care and reduce racial disparities in blood pressure control. We strengthened the project's design by tailoring intervention components to meet the needs of the individual clinics. By incorporating principles of community-based participatory research and through the continual engagement of clinic staff, providers, and organizational leaders, planning for sustainability has been a priority of the project. We recognize that its implementation and outcomes are influenced by a variety of factors and have worked to address these barriers. Furthermore, employing a pragmatic trial design and introducing the interventions into uncontrolled, primary care settings enhances the generalizability of our results and could encourage other clinics to incorporate our findings into routine care. Project ReD CHiP will provide knowledge about how integrated multi-level interventions can reduce disparities in blood pressure control; how organizational functioning can affect guideline concordant hypertension care; and how to design sustainable quality improvement interventions in community-based clinical settings.
Acknowledgements
The authors would like to thank all of the research staff at Johns Hopkins (workgroup members, care managers, trainees and administrative staff), the staff at all of the participating clinical sites, all of the participating providers, the organizational leaders and the patients, for making the completion of this study possible. This work is supported by grants from the National Heart, Lung and Blood Institute (P50HL0105187 and K24HL083113). The authors would also like to thank the members of the Johns Hopkins Center to Eliminate Cardiovascular Health Disparities Community and Provider Advisory Board for guidance throughout the project; Dr. Theodore Speroff for feedback on drafts of the grant proposal; Jennifer Halbert, Wendy Greenberg and the JHCP IT Department for assistance with assembling data; and Mary Twomley for her project management during early stages of the project. Publication of this article was funded in part by the Open Access Promotion Fund of the Johns Hopkins University Libraries.
This article is published under license to BioMed Central Ltd. This is an Open Access article distributed under the terms of the Creative Commons Attribution License (
http://​creativecommons.​org/​licenses/​by/​2.​0
), which permits unrestricted use, distribution, and reproduction in any medium, provided the original work is properly cited.
Competing interests
The authors declare that they have no competing interests.
Authors' contributions
LC, GN, RB, CA, HA, DR, EM, GP, AD, JC, MS, and MH conceived of and designed the study. LC, JM, GN, KC, RB, HA and MH participated in the analysis and interpretation of data. KC provided statistical expertise. LC, JM, SF and KD drafted the article. All authors read and approved the final manuscript.