01.12.2017 | Research | Ausgabe 1/2017 Open Access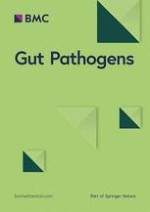 A multicenter prospective study on the diagnostic performance of a new liquid rapid urease test for the diagnosis of
Helicobacter pylori

infection
Zeitschrift:
Autoren:

Werner Dolak, Ceren Bilgilier, Alexander Stadlmann, Judith Leiner, Andreas Püspök, Wolfgang Plieschnegger, Franz Siebert, Friedrich Wewalka, Rainer Schöfl, Ursula Huber-Schönauer, Christian Datz, Susanne Biowski-Frotz, Christoph Högenauer, Christiane Schrutka-Kölbl, Athanasios Makristathis, Maximilian Schöniger-Hekele, Christoph Steininger, for the Austrian Helicobacter Pylori Study Group
Wichtige Hinweise
Electronic supplementary material
Abstract
Background
Helicobacter pylori
(
H. pylori
) causes a diversity of gastric diseases. Rapid urease tests (RUT) are well established for the point-of-care, invasive diagnosis of
H. pylori
infection. The study aimed to evaluate the diagnostic performance of a new liquid RUT, the preOx-HUT, within a prospective cohort of treatment-naïve patients.
Methods
The multicenter prospective clinical trial was conducted at nine Austrian centers for gastrointestinal endoscopy. Patients referred for a diagnostic upper gastrointestinal endoscopy underwent gastric biopsy sampling for routine histological evaluation, and in parallel, the preOx-HUT. Histology served as reference standard to evaluate the diagnostic performance of the preOx-HUT.
Results
From January 2015 to January 2016, a total of 183 consecutive patients (54 males and 129 females, median age 50 years) were included. Endoscopy revealed pathological findings in 149/183 cases (81%), which were mostly gastritis (59%) and gastro-esophageal reflux disease (27%).
H. pylori
infection was detected by histology in 41/183 (22%) cases. In relation to histology, the preOx-HUT had a sensitivity of 85%, a specificity of 94%, a positive predictive value of 80% and a negative predictive value of 96%. Performance of preOx-HUT was not affected significantly by concomitant PPI-use as present in 15% of cases (P = 0.73).
Conclusions
This was the first study evaluating the preOx-HUT in a prospective, multicenter clinical setting. We found a high diagnostic accuracy for the point-of-care, invasive diagnostic test of
H. pylori
infection. Hence, this test may be a valuable diagnostic adjunct to the clinical presentation of patients with suspected
H. pylori
infection.
Trial registration number
EK 1548/2014, Name of registry: Register der Ethikkommission der Medizinischen Universität Wien, URL of registry:
https://​ekmeduniwien.​at/​core/​catalog/​2012/​
, Date of registration: 24.09.2014, Date of enrolment of the first participant to the trial: 15.01.2015