01.06.2014 | Gynecologic Oncology | Ausgabe 6/2014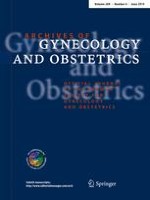 A multicentric randomized study comparing two techniques of magnification assisted loop excision of high-grade cervical intraepithelial neoplasia: video exoscopy and colposcopy
Zeitschrift:
Autoren:

Giuseppe F. Vercellino, Evrim Erdemoglu, Vito Chiantera, Al-Hakeem Malak, Katharina Vasiljeva, Inka Drechsler, Anna Maria Dückelmann, Janine Richter, Achim Schneider, Gerd Böhmer
Wichtige Hinweise
All authors have contributed to the manuscript.
We dedicate this article to Anneliese Jähn 1932–2012 who dedicated her professional career to the prevention of cervical cancer at Charité University Medicine, Berlin, Germany.
Abstract
Purpose
To compare loop excisions of cervical intraepithelial neoplasia grade 2 or worse (CIN 2+) under video exoscopy, or colposcopic guidance, with respect to safety and effectiveness.
Methods
Prospective multicentric randomized trial of 300 patients, undergoing loop excision for CIN 2+ either under video exoscopy (group A) or colposcope (group B) guidance. Intra- and post-operative complications, resection margins, and removed cervical volume in both groups were evaluated.
Results
19.3 % of patients in video exoscopy group and 15.5 % in colposcopy group (
p
= 0.67) had transformation zone (TZ) 3. 45/151 (29.8 %) of group A patients and 48/149 (32.2 %) of group B patients underwent top-hat procedure, i.e., one superficial excision followed by one deeper removal of the endocervical tissue (
p
= 0.74). There was no difference in intra- and post-operative complications in the two groups. Positive endocervical resection margins (R0) were 9.9 % in video exoscopy group and 8.7 % in colposcopy group, respectively. Unclear endocervical resection margins (Rx) were 2.0 % in both groups. Mean total excised cervical volume was 1.20 cubic centimeter (cc³) in group A, and 1.24 cc³ in group B, respectively. Recurrent disease occurred in 2.3 % of patients at 6 months follow-up.
Conclusion
Magnification assisted loop excision of CIN 2+ is equally effective and safe under colposcopic and video exoscopy guidance. The latter technique could potentially offer an alternative treatment of CIN 2+ lesions for doctors unfamiliar with colposcope