Erschienen in: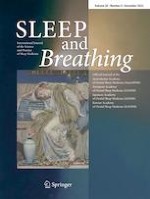 11.01.2022 | Sleep Breathing Physiology and Disorders • Original Article
A multifactorial intervention to increase adherence to oral appliance therapy with a titratable mandibular advancement device for obstructive sleep apnea: a randomized controlled trial
Erschienen in: Sleep and Breathing | Ausgabe 4/2022
Einloggen, um Zugang zu erhalten
Abstract
Purpose
Obstructive sleep apnea (OSA) is a common chronic condition, associated with several conditions that account for leading causes of mortality. Adherence to treatment of a chronic condition is, along with treatment efficacy, a major determinant of treatment outcome. The aim of this study was to test whether or not a multifactorial intervention in addition to standard care increases adherence rates in patients using a titratable oral appliance for OSA.
Methods
All subjects were 18 years old or older, had a diagnosis of OSA, and were treated with an oral appliance with an embedded sensor to measure appliance wear time objectively. The control group received routine care, while the experimental subjects received an additional multifactorial intervention. Comparison of adherence was at 30 days (Phase I) and 90 days (Phase II) after appliance delivery.
Results
Data are reported for 82 subjects in Phase I (control 43; experimental 39) and 66 subjects in Phase II (control 36; experimental 30). There were no significant differences for age, sex, body mass index, and apnea-hypopnea index (
p
 > 0.05) between groups. In both Phase I and Phase II, the mean number of nights the appliance was worn 4 or more hours and the mean time the appliance was worn nightly were significantly greater in the experimental than in the control group (
p
 < 0.05).
Conclusions
Interventions were well received by subjects and can be carried out by auxiliary personnel. The experimental interventions resulted in clinically important and statistically significant improvements in patient adherence to treatment.