01.12.2017 | Review | Ausgabe 1/2017 Open Access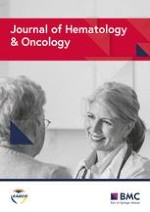 A new insight in chimeric antigen receptor-engineered T cells for cancer immunotherapy
Zeitschrift:
Autoren:

Erhao Zhang, Hanmei Xu
Abbreviations
BiTE
Bispecific T cell engager
CAR
Chimeric antigen receptor
CCR
Chimeric costimulatory receptor
CRS
Cytokine release syndrome
CTLA-4
Cytotoxic T lymphocyte-associated antigen 4
FITC
Fluorescein isothiocyanate
FKBP12-F36V
FK506-binding protein with an F36V mutation
GvHD
Graft-versus-host disease
HSV-TK
Herpes simplex virus thymidine kinase
ITAMs
Immunoreceptor tyrosine activation motifs
MHC
Major histocompatibility complex
PSCA
Prostate stem cell antigen
PSMA
Prostate-specific membrane antigen
scFv
Single-chain antibody fragments
sdCAR
Switchable dual-receptor CAR
Background
Conclusions and perspectives
Through some clinical trials on the impressive activity of the modified-T cells, such as ClinicalTrials.gov nos. NCT01029366, NCT02030847, and NCT02388828, this cell-based therapy has been given high expectations for tumor eradication. Even though successful tumor eradication, this form of immunotherapy can cause some systemic life-threatening adverse effects, such as CRS and "on-target, off-tumor" toxicity. In some previous reports, strategies toward amelioration of the adverse effects derived from the CAR-T cell therapy in patients with some serious diseases can be divided into two categories. First, some forms of the CAR structure and autocrime cytokines have been developed to enhance the CAR-T cell abilities for its specific recognition and homing. On the other hand, the timing, dose, and location of the CAR-T cell therapy can be precisely regulated in vitro and in vivo upon addition of some molecules that are used as a switch and rheostat to achieve a remote control for therapeutic T cells.
In this review, the forms of cellular control represent autonomous control (e.g., tumor antigens), user control (e.g., small molecules), or both. This strategy toward improving the safety of CAR-T cell therapy involves the use of active molecules, including dimerization molecules and bifunctional molecules. This exogenous approach to cellular regulation is likely to become increasingly safe and effective, and also allows for more precise control over the timing and location of the immune response. With advances in the dual-receptor paradigm in the field of cell therapy, the new mode of synthetic combinatorial system that includes the dual-receptor CAR with the bifunctional molecules comprising targeted molecule and antitumor molecule may provide an important platform for producing more controllable cellular therapeutic T cells (Fig.
3
). The switchable dual-receptor CAR-T characterized above, termed sdCAR-T, may have some advantages with bifunctional molecule for antitumor effect. Firstly, the immune response of sdCAR-T cell against the tumor tissue is dependent on the bifunctional molecule as a switch to simultaneously redirect the tumor cell and molecule-specific CAR-T cell. Second, the therapeutic activity of the dual-receptor CAR-T cell can be titratable by varying concentration of the bifunctional molecule, resulting in precision-control of the therapeutic T cell. Third, the durability of the CAR-T therapeutic effects is greatly increased due to the bifunctional molecules with a long half-life in vivo and in vitro relative to the constitutive single-molecule. Finally, the overall antitumor activity of this combinatorial system will be improved associated with the exogenous molecule carrying the ability to suppress tumor growth. In this way, the combinatorial therapy, a promising pattern of the cell therapy in the war against cancer, now raises the possibility that the tumor cells could be killed based on autonomous tumor antigens and active molecules. This method may have better safety and efficacy than current CAR-T cell.
Conclusively, the cancer biotherapy, including the adoptive immunotherapy with genetically modified T cells and immune checkpoint blockade therapy, has produced better antitumor response than other therapies. Integration therapy involving modified-T cells and immune checkpoint blockade may be an effective means of ultimately eliminating tumor cells (Fig.
3
). The switchable CAR-T cells have a controllable cytotoxicity for mitigating tumor burden with the bifunctional molecules. Additionally, using monoclonal antibodies to target the immune checkpoints may produce more efficient T cell behavior. In this way, this combinatorial control system may provide a valuable insight for further refining spatio-temporal control of CAR-T cell therapy.
Acknowledgements
Not applicable.
Funding
This work was supported by the Project Program of State Key Laboratory of Natural Medicines (no. SKLNMBZ201403) and the National Science and Technology Major Projects of New Drugs (nos. 2012ZX09103301-004 and. 2014ZX09508007) in China. This project was also funded by the Priority Academic Program Development of Jiangsu Higher Education Institutions (PAPD).
Availability of data and materials
The material supporting the conclusion of this review has been included within the article.
Authors' contributions
EZ designed and drafted the manuscript. HX discussed and revised the manuscript. Both authors read and approved the final manuscript.
Competing interests
The authors declare that they have no competing interests.
Consent for publication
This is not applicable for this review.
Ethics approval and consent to participate
This is not applicable for this review.
Open Access
This article is distributed under the terms of the Creative Commons Attribution 4.0 International License (
http://​creativecommons.​org/​licenses/​by/​4.​0/​
), which permits unrestricted use, distribution, and reproduction in any medium, provided you give appropriate credit to the original author(s) and the source, provide a link to the Creative Commons license, and indicate if changes were made. The Creative Commons Public Domain Dedication waiver (
http://​creativecommons.​org/​publicdomain/​zero/​1.​0/​
) applies to the data made available in this article, unless otherwise stated.