01.12.2012 | Research | Ausgabe 1/2012 Open Access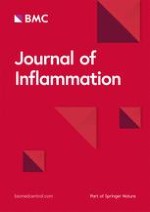 A new metabolomic assay to examine inflammation and redox pathways following LPS challenge
Zeitschrift:
Autoren:

Jung H Suh, Robert Y Kim, Daniel S Lee
Wichtige Hinweise
Electronic supplementary material
The online version of this article (doi:
10.​1186/​1476-9255-9-37
) contains supplementary material, which is available to authorized users.
Competing interests
No conflicting interests.
Authors' contributions
Kim, R and Lee, D performed the experiments. Suh, JH designed the study, performed mass spectrometry analysis, interpreted data, and wrote the manuscript. All authors read and approved the final manuscript.
Abstract
Background
Shifts in intracellular arginine (Arg) and sulfur amino acid (SAA) redox metabolism modulate macrophage activation, polarization and phenotype. Despite their importance in inflammation and redox regulatory pathways, comprehensive analysis of these metabolic networks was not previously possible with existing analytical methods.
Methods
The Arg/thiol redox LC-MS/MS metabolomics assay permits simultaneous assessment of amino acids and derivative products generated from Arg and SAA metabolism. Using this assay, LPS-induced changes in macrophage amino acid metabolism were monitored to identify pathway shifts during activation and their linkage to cellular redox regulation.
Results
Metabolite concentrations most significantly changed after treatment of a macrophage-like cell line (RAW) with LPS for 24 hrs were citrulline (Cit) (48-fold increase), ornithine (Orn) (8.5-fold increase), arginine (Arg) (66% decrease), and aspartic acid (Asp) (73% decrease). The ratio Cit + Orn/Arg + Asp (CO/AA) was more sensitive to LPS stimulation than other amino acid ratios commonly used to measure LPS-dependent inflammation (e.g., SAM/SAH, GSH/GSSG) and total media NOx. The CO/AA ratio was also the first ratio to change significantly after LPS treatment (4 hrs). Changes in the overall metabolomic profile over time indicated that metabolic pathways shifted from Arg catabolism to thiol oxidation.
Conclusions
Simultaneous quantification of Arg and SAA metabolic pathway shifts following LPS challenge of macrophage indicate that, in this system, the Arg-Citrulline/NO cycle and arginase pathways are the amino acid metabolic pathways most sensitive to LPS-challenge. The cellular (Cit + Orn)/(Arg + Asp) ratio, which summarizes this pathway, was more responsive to lower concentrations of LPS and responded earlier than other metabolic biomarkers of macrophage activation including GSH redox. It is suggested that the CO/AA ratio is a redox- independent early biomarker of macrophage activation. The ability to measure both the CO/AA and GSH-redox ratios simultaneously permits quantification of the relative effects of LPS challenge on macrophage inflammation and oxidative stress pathways. The use of this assay in humans is discussed, as are clinical implications.