01.01.2012 | Original article | Ausgabe 1/2012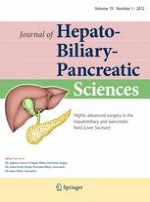 A nomogram predicting disease-free survival in patients with colorectal liver metastases treated with hepatic resection: multicenter data collection as a Project Study for Hepatic Surgery of the Japanese Society of Hepato-Biliary-Pancreatic Surgery
Zeitschrift:
Autoren:

Toru Beppu, Yoshihiro Sakamoto, Kiyoshi Hasegawa, Goro Honda, Kuniya Tanaka, Yoshihito Kotera, Hiroyuki Nitta, Hiroyuki Yoshidome, Etsuro Hatano, Masaki Ueno, Hiroyuki Takamura, Hideo Baba, Tomoo Kosuge, Norihiro Kokudo, Keiichi Takahashi, Itaru Endo, Go Wakabayashi, Masaru Miyazaki, Shinji Uemoto, Tetsuo Ohta, Ken Kikuchi, Hiroki Yamaue, Masakazu Yamamoto, Tadahiro Takada
Wichtige Hinweise
Electronic supplementary material
The online version of this article (doi:
10.​1007/​s00534-011-0460-z
) contains supplementary material, which is available to authorized users.
Abstract
Background/purpose
The aim of this study was to create a nomogram to predict the disease-free survival of patients with colorectal liver metastases treated with hepatic resection.
Methods
Perioperative factors were assessed in 727 hepatectomized patients with colorectal liver metastases between 2000 and 2004 at the 11 institutions of the "Project Committee of the Liver" in the Japanese Society of Hepato-Biliary-Pancreatic Surgery. A nomogram was developed as a graphical representation of a stepwise Cox proportional hazards regression model.
Results
Perioperative mortality was 0.55%. Disease-free and overall survival rates were 31.2 and 63.8% at 3 years, 27.2 and 47.7% at 5 years, and 24.7 and 38.5% at 10 years, respectively. Six preoperative factors were selected to create the nomogram for disease-free survival: synchronous metastases, 3 points; primary lymph node positive, 3 points; number of tumors 2–4, 4 points and ≥5, 9 points; largest tumor diameter >5 cm, 2 points; extrahepatic metastasis at hepatectomy, 4 points, and preoperative carbohydrate antigen 19-9 level >100, 4 points. The estimated median disease-free survival time was easily calculated by the nomogram: >8.4 years for patients with 0 points, 1.9 years for 5 points, 1.0 years for 10 points, and the rates were lower than 0.6 years for patients with more than 10 points.
Conclusions
This nomogram can easily calculate the median and yearly disease-free survival rates from only 6 preoperative variables. This is a very useful tool to determine the likelihood of early recurrence and the necessity for perioperative chemotherapy in patients with colorectal liver metastases after hepatic resection.