01.12.2018 | Case report | Ausgabe 1/2018 Open Access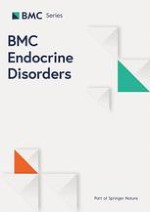 A novel chimeric
CYP11B2/CYP11B1

combined with a new p.L340P CYP11B1 mutation in a patient with 11OHD: case report
Zeitschrift:
Autoren:

Lian Duan, Rufei Shen, Lingyu Song, Yong Liao, Hongting Zheng
Wichtige Hinweise
Electronic supplementary material
Abstract
Background
11β-Hydroxylase deficiency (11OHD) is a common form of congenital adrenal hyperplasia that has been shown to result from inactivating
CYP11B1
mutations, and pathogenic
CYP11B2/CYP11B1
chimeras contribute to a minority of cases. Heterozygote cases (chimeras combined with missense mutation) are very rare, and genetic analysis of these cases is difficult.
Case presentation
We describe an 11OHD patient presenting with precocious pseudopuberty and hypokalemia hypertension who harbored a chimeric
CYP11B2/CYP11B1
with a novel breakage point located at g.9559–9742 of
CYP11B2
. Interestingly, the other allele exhibited a new mutation, p.L340P, in
CYP11B1
. Bioinformatics and molecular dynamics simulation indicated that p.L340P decreased the stability and changed the surface configuration of 11β-hydroxylase, indicating a disease-causing mutation. Further pedigree study, PCR and next-generation sequencing indicated that the proband carried both the chimera and p.L340P, and coexistence of the two increased the severity of 11OHD in this family. After treatment with combined medications, blood pressure and clinical parameters improved.
Conclusions
Our results suggest that chimera screening and
CYP11B1
mutation screening should be simultaneously conducted, and pedigree study is necessary.