01.12.2018 | Research article | Ausgabe 1/2018 Open Access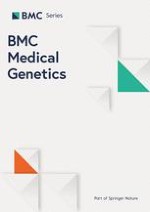 A novel compound heterozygous variant identified in
GLDC

gene in a Chinese family with non-ketotic hyperglycinemia
Zeitschrift:
Autoren:

Yiming Lin, Zhenzhu Zheng, Wenjia Sun, Qingliu Fu
Wichtige Hinweise
Electronic supplementary material
Abstract
Background
Non-ketotic hyperglycinemia (NKH) is a rare, devastating autosomal recessive disorder of glycine metabolism with a very poor prognosis. Currently, few studies have reported genetic profiling of Chinese NKH patients. This study aimed to identify the genetic mutations in a Chinese family with NKH.
Methods
A Chinese family of Han ethnicity, with three siblings with NKH was studied. Sanger sequencing and multiplex ligation-dependent probe amplification combined with SYBR green real-time quantitative PCR was used to identify potential mutations in the
GLDC
,
AMT
and
GCSH
genes. The potential pathogenicity of the identified missense mutation was analyzed using SIFT, PolyPhen-2, PROVEAN and MutationTaster software.
Results
All patients exhibited severe and progressive clinical symptoms, including lethargy, hypotonia and seizures, and had greatly elevated glycine levels in their plasma and CSF. Molecular genetic analysis identified compound heterozygous variants in the
GLDC
gene in these three siblings, including a novel missense variant c.2680A > G (p.Thr894Ala) in exon 23 and a heterozygous deletion of exon 3, which were inherited respectively from their parents. In silico analysis, using several different types of bioinformatic software, predicted that the novel variant c.2680A > G in the
GLDC
gene was pathogenic. Moreover, the deletion of exon 3 was identified for the first time in a Chinese population.
Conclusions
A novel missense variant and a previously reported deletion in
GLDC
gene were identified. The two variants of
GLDC
gene identified probably underlie the pathogenesis of non-ketotic hyperglycinemia in this family, and also enrich the mutational spectrum of
GLDC
gene.