17.09.2016 | Original Paper | Ausgabe 3/2017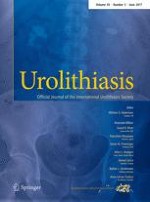 A
novel CYP24A1

genotype associated to a clinical picture of hypercalcemia, nephrolithiasis and low bone mass
Zeitschrift:
Autoren:

Pietro Manuel Ferraro, Angelo Minucci, Aniello Primiano, Elisa De Paolis, Jacopo Gervasoni, Silvia Persichilli, Alessandro Naticchia, Ettore Capoluongo, Giovanni Gambaro
Abstract
Mutations of the
CYP24A1
gene, encoding for the enzyme 25(OH)D-24-hydroxylase, can cause hypercalcemia, hypercalciuria, nephrolithiasis and nephrocalcinosis. We report the case of a 22-year-old male patient with recurrent nephrolithiasis, nephrocalcinosis, hypercalcemia with low parathyroid hormone levels, hypercalciuria and low bone mass. Gene sequencing showed that the patient had compound heterozygous mutations including a
novel
genotype of the
CYP24A1
gene. Genetic
CYP24A1
testing and biochemical analyses were offered to other family members; the father was heterozygous for the same
novel
genotype and was also affected with recurrent nephrolithiasis.