01.12.2018 | Research | Ausgabe 1/2018 Open Access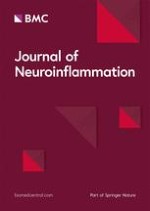 A novel IL-1RA-PEP fusion protein alleviates blood-brain barrier disruption after ischemia-reperfusion in male rats
Zeitschrift:
Autoren:

Dong-Dong Zhang, Chen Jin, Ya-Tao Zhang, Xiang-Dong Gan, Min-Ji Zou, Yuan-Yuan Wang, Wen-Liang Fu, Tao Xu, Wei-Wei Xing, Wen-Ron Xia, Dong-Gang Xu
Abstract
Background
Current options to treat clinical relapse in inflammatory central nervous system (CNS) conditions such as cerebral ischemia-reperfusion injury are limited, and agents that are more effective are required. Disruption of the blood-brain barrier is an early feature of lesion formation that correlates with clinical exacerbation and facilitates the entry of inflammatory medium and inflammatory cells. Interleukin-1 receptor antagonist (IL-1RA) is a naturally occurring anti-inflammatory antagonist of the interleukin-1 (IL-1) family. The broad-spectrum anti-inflammatory effects of IL-1RA have been investigated against various forms of neuroinflammation. However, the effect of IL-1RA on blood-brain barrier disruption following ischemia-reperfusion has not been reported.
Methods
In this study, we investigated the effects of IL-1RA and a novel protein (IL-1RA-PEP) that was fused to IL-1RA with a cell penetrating peptide, on blood-brain barrier integrity, in male rats subjected to transient middle cerebral artery occlusion.
Results
After intravenous administration, IL-1RA-PEP (50 mg/kg) penetrated cerebral tissues more effectively than IL-1RA. Moreover, it preserved blood-brain barrier integrity, attenuated changes in expression and localization of tight junction proteins and matrix metalloproteinases, and enhanced angiogenesis in ischemic brain tissue. Further study suggested that the effects of IL-1RA-PEP on preserving blood-brain barrier integrity might be closely correlated with the p65/NF-κB pathway, as evidenced by the effects of the inhibitor JSH-23.
Conclusions
Collectively, our results demonstrated that IL-1RA-PEP could effectively penetrate the brain of rats with middle cerebral artery occlusion and ameliorate blood-brain barrier disruption. This finding might represent its novel therapeutic potential in the treatment of the cerebral ischemia-reperfusion injury.