04.09.2020 | New Concept | Ausgabe 11/2020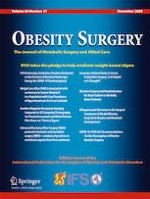 A Novel Intragastric Satiety-Inducing Device to Inhibit Weight Gain in Juvenile Pigs: a Pilot Study
Zeitschrift:
Autoren:

Nader Bakheet, Hee Kyong Na, Jung-Hoon Park, Dae sung Ryu, Jae Yong Jeon, Mouen A. Khashab, Vivek Kumbhari, Jiaywei Tsauo, Ho-Young Song, Hong Tao Hu, Do Hoon Kim, Hwoon-Yong Jung
Wichtige Hinweise
Electronic supplementary material
Nader Bakheet, Hee Kyong Na, and Jung-Hoon Park contributed equally to this work and are the co-first authors.
Hoon Kim and Hwoon-Yong Jung contributed equally to this work and are the co-corresponding authors.
Publisher's Note
Springer Nature remains neutral with regard to jurisdictional claims in published maps and institutional affiliations.
Abstract
Background and Aims
Minimally invasive therapies for obesity are a bridge between lifestyle interventions and bariatric surgery. We developed a novel device to reduce weight gain rate and evaluated its safety and efficacy in juvenile pigs.
Methods
The intragastric satiety-inducing device (ISD) comprises a self-expandable esophageal metal stent connected to a star-shaped disc placed in the stomach fundus. Eight juvenile pigs were randomized into ISD (
n
 = 5) and control (
n
 = 3) groups. Body weight and serum ghrelin hormone were monitored weekly for 6 weeks. One pig was followed up for 4 additional weeks (rebound pig) after ISD removal. Histological examination and immunohistochemistry for the interstitial cells of Cajal (ICCs) were performed.
Results
ISD placement was successful in all pigs. Two ISDs (40%) migrated at 4 and 5 weeks after placement. Weight gain rates were significantly lower in the ISD group than in the control group from week 1 to 6 but were higher in the rebound pig than in a control pig from week 7 to 10. Mean ghrelin hormone level was higher in the control group than in the ISD group from week 1 to 6. ISD induced reversible inflammatory changes in the esophagus and stomach fundus. The number of ICCs was lesser in ISD pigs than in control and rebound pigs.
Conclusions
ISD placement is feasible and safe in juvenile pigs. It decreases weight gain rate but induces reversible inflammatory reaction and tissue hyperplasia. Its mechanism may be related to pressure exertion on the stomach fundus or gastric motility alteration.