01.12.2015 | Case report | Ausgabe 1/2015 Open Access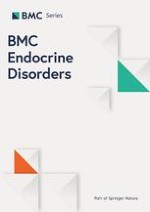 A novel loss-of-function mutation of
GATA3

(p.R299Q) in a Japanese family with Hypoparathyroidism, Deafness, and Renal Dysplasia (HDR) syndrome
Zeitschrift:
Autoren:

Tetsuji Okawa, Masanori Yoshida, Takeshi Usui, Takahiro Kudou, Yasumasa Iwasaki, Kazuki Fukuoka, Norio Takahashi, Yuka Uehara, Yutaka Oiso
Wichtige Hinweise
Competing interests
The authors declare that they have no conflict of interest.
Authors' contributions
TO performed clinical management as a primary physician of the proband and drafted the initial manuscript. MY contributed to the conception and design of the work and edited and reviewed the manuscript. TU contributed to sequence analysis. TK performed structural analysis and proposed a useful suggestion to the results. YI performed
in vitro
functional analysis and statistical analysis. KF performed clinical management as the primary physician to the proband's daughter. NT and UF participated in acquisition of the data. YO supervised manuscript presentration. All authors read and approved the final manuscript.
Abstract
Background
Hypoparathyroidism, deafness, and renal dysplasia (HDR) syndrome is a rare autosomal dominant disorder caused by mutations in the zinc finger transcription factor gene,
GATA3
. GATA3 has 2 zinc finger domains, which play an important role in the increase in target gene transcription activity.
Case presentation
A 50-year-old woman and her 27-year-old daughter were followed up because of hypoparathyroidism. They had bilateral sensorineural deafness. Abdominal computed tomography scanning revealed renal dysplasia in the mother, but no renal anomaly in the daughter. Direct sequencing of
GATA3
gene revealed a novel heterozygous missense mutation at codon 299 (p.R299Q) in exon 4. This mutation is located at the junction between the 2 zinc fingers. The structure prediction showed that it caused a conformation change in this junction area, affecting the spatial position of the zinc fingers. Additionally, a more marked conformation change was observed in the N-terminal zinc finger region compared to that in the C-terminal region. Functional analysis of this mutant protein using an
in vitro
luciferase reporter assay system confirmed that the mutation abolished the enhancing effects of wild-type GATA3 on the promoter activity of the consensus GATA responsive element and that of human
PTH
gene.
Conclusion
We identified a novel R299Q mutation in
GATA3
in a Japanese family with HDR syndrome. We confirmed that R299Q is a loss-of-function mutation, due to the extensive conformational change in the zinc fingers of GATA3.