25.07.2019 | Original Research | Ausgabe 4/2020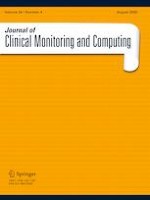 A novel method for transpulmonary pressure estimation using fluctuation of central venous pressure
Zeitschrift:
Autoren:

Miyako Kyogoku, Muneyuki Takeuchi, Yu Inata, Nao Okuda, Yoshiyuki Shimizu, Takeshi Hatachi, Kazue Moon, Kazuya Tachibana
Wichtige Hinweise
A part of the research data was presented by Miyako Kyogoku at 46th Symposium on the Society of Critical Care Medicine on January 23, 2017, in Honolulu, Hawaii, USA.
Publisher's Note
Springer Nature remains neutral with regard to jurisdictional claims in published maps and institutional affiliations.
Abstract
The objective of the study is to develop a correction method for estimating the change in pleural pressure (ΔPpl) and plateau transpulmonary pressure (PL) by using the change in central venous pressure (ΔCVP). Seven children (aged < 15 years) with acute respiratory failure (PaO2/FIO2 < 300 mmHg), who were paralyzed and mechanically ventilated with a PEEP of < 10 cmH2O and had central venous catheters and esophageal balloon catheters placed for clinical purposes, were enrolled prospectively. We compared change in esophageal pressure (ΔPes), ΔCVP, and ΔPpl calculated using a corrected ΔCVP (cΔCVP-derived ΔPpl). cΔCVP-derived ΔPpl was calculated as κ × ΔCVP, where κ was the ratio of the change in airway pressure (ΔPaw) to ΔCVP during the occlusion test. cΔCVP-derived ΔPpl correlated better than ΔCVP with ΔPes (R2 = 0.48, p = 0.08 vs. R2 = 0.14, p = 0.4) with lesser bias and precision in Bland–Altman analysis. The plateau PL calculated using the cΔCVP-derived ΔPpl (17.6 ± 2.6 cmH2O) correlated well with the ΔPes-derived plateau PL (18.1 ± 2.3 cmH2O) (R2 = 0.90, p = 0.001). Our correction method can estimate ΔPpl and plateau PL from ΔCVP with a reasonable accuracy in paralyzed and mechanically ventilated pediatric patients with respiratory failure.