01.12.2014 | Research | Ausgabe 1/2014 Open Access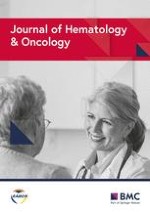 A novel mycobacterial Hsp70-containing fusion protein targeting mesothelin augments antitumor immunity and prolongs survival in murine models of ovarian cancer and mesothelioma
Zeitschrift:
Autoren:

Jianping Yuan, Satoshi Kashiwagi, Patrick Reeves, Jean Nezivar, Yuan Yang, Nadiah Hashim Arrifin, Mai Nguyen, Gilberte Jean-Mary, Xiaoyun Tong, Paramjit Uppal, Svetlana Korochkina, Ben Forbes, Tao Chen, Elda Righi, Roderick Bronson, Huabiao Chen, Sandra Orsulic, Timothy Brauns, Pierre Leblanc, Nathalie Scholler, Glenn Dranoff, Jeffrey Gelfand, Mark C Poznansky
Wichtige Hinweise
Electronic supplementary material
The online version of this article (doi:
10.​1186/​1756-8722-7-15
) contains supplementary material, which is available to authorized users.
Competing interests
The authors declare that they have no competing interests.
Authors' contributions
JY played a role in the design of the experiments, acquisition, analysis, and interpretation of the data, and writing the manuscript. PR, JN, YY, NHA, MN, GJ-M, XT, SK, HC, PU, BF, TC and PL participated in the performance of experiments. SK and TB were involved in design of the experiments. RB was involved in data analysis. ER was involved in setting up murine ovarian cancer model. SO provided the murine ovarian cancer model. NS provided the plasmid that encodes an scFv fragment specific to MSLN and the recombinant P4 scFv protein. GD, NS and SO gave constructive input on experimental design and data analysis. JG played a role in conception and design of the fusion protein. MP and JG were involved in the conceptualization and design of the study, analysis and interpretation of datasets and in writing the manuscript. All authors read and approved the final manuscript.
Abstract
Background
Although dendritic cell (DC) vaccines are considered to be promising treatments for advanced cancer, their production and administration is costly and labor-intensive. We developed a novel immunotherapeutic agent that links a single-chain antibody variable fragment (scFv) targeting mesothelin (MSLN), which is overexpressed on ovarian cancer and mesothelioma cells, to
Mycobacterium tuberculosis
(MTB) heat shock protein 70 (Hsp70), which is a potent immune activator that stimulates monocytes and DCs, enhances DC aggregation and maturation and improves cross-priming of T cells mediated by DCs.
Methods
Binding of this fusion protein with MSLN on the surface of tumor cells was measured by flow cytometry and fluorescence microscopy. The therapeutic efficacy of this fusion protein was evaluated in syngeneic and orthotopic mouse models of papillary ovarian cancer and malignant mesothelioma. Mice received 4 intraperitoneal (i.p.) treatments with experimental or control proteins post i.p. injection of tumor cells. Ascites-free and overall survival time was measured. For the investigation of anti-tumor T-cell responses, a time-matched study was performed. Splenocytes were stimulated with peptides, and IFNγ- or Granzyme B- generating CD3
+
CD8
+
T cells were detected by flow cytometry. To examine the role of CD8
+
T cells in the antitumor effect, we performed
in vivo
CD8
+
cell depletion. We further determined if the fusion protein increases DC maturation and improves antigen presentation as well as cross-presentation by DCs.
Results
We demonstrated
in vitro
that the scFvMTBHsp70 fusion protein bound to the tumor cells used in this study through the interaction of scFv with MSLN on the surface of these cells, and induced maturation of bone marrow-derived DCs. Use of this bifunctional fusion protein in both mouse models significantly enhanced survival and slowed tumor growth while augmenting tumor-specific CD8
+
T-cell dependent immune responses. We also demonstrated
in vitro
and
in vivo
that the fusion protein enhanced antigen presentation and cross-presentation by targeting tumor antigens towards DCs.
Conclusions
This new cancer immunotherapy has the potential to be cost-effective and broadly applicable to tumors that overexpress mesothelin.