01.12.2018 | Research | Ausgabe 1/2018 Open Access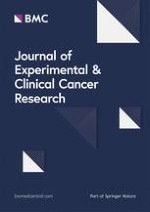 A novel small molecule inhibitor of MDM2-p53 (APG-115) enhances radiosensitivity of gastric adenocarcinoma
Zeitschrift:
Autoren:

Hanjie Yi, Xianglei Yan, Qiuyun Luo, Luping Yuan, Baoxia Li, Wentao Pan, Lin Zhang, Haibo Chen, Jing Wang, Yubin Zhang, Yifan Zhai, Miao-Zhen Qiu, Da-Jun Yang
Wichtige Hinweise
Electronic supplementary material
Abstract
Background
Gastric cancer is the leading cause of cancer related death worldwide. Radiation alone or combined with chemotherapy plays important role in locally advanced and metastatic gastric adenocarcinoma. MDM2–p53 interaction and downstream signaling affect cellular response to DNA damage which leads to cell cycle arrest and apoptosis. Therefore, restoring p53 function by inhibiting its interaction with MDM2 is a promising therapeutic strategy for cancer. APG-115 is a novel small molecule inhibitor which blocks the interaction of MDM2 and p53. In this study, we investigated that the radiosensitivity of APG-115 in gastric adenocarcinoma in vitro and in vivo.
Methods
The role of APG-115 in six gastric cancer cells viability in vitro was determined by CCK-8 assay. The expression level of MDM2, p21, PUMA and BAX in AGS and MKN45 cell lines was measured via real-time PCR (RT-PCR). The function of treatment groups on cell cycle and cell apoptosis were detected through Flow Cytometry assay. Clonogenic assays were used to measure the radiosensitivity of APG-115 in p53 wild type gastric cancer cell lines. Western blot was conducted to detect the protein expressions of mdm2-p53 signal pathway. Xenograft models in nude mice were established to explore the radiosensitivity role of APG-115 in gastric cancer cells in vivo.
Results
We found that radiosensitization by APG-115 occurred in p53 wild-type gastric cancer cells. Increasing apoptosis and cell cycle arrest was observed after administration of APG-115 and radiation. Radiosensitivity of APG-115 was mainly dependent on MDM2-p53 signal pathway. In vivo, APG-115 combined with radiation decreased xenograft tumor growth much more significantly than either single treatment. Moreover, the number of proliferating cells (Ki-67) significantly decreased in combination group compared with single treatment group.
Conclusions
In summary, we found that combination of MDM2-p53 inhibitor (APG-115) and radiotherapy can enhance antitumor effect both in vitro and in vivo. This is the first report on radiosensitivity of APG-115 which shed light on clinical trial of the combination therapy of radiation with APG-115 in gastric adenocarcinoma.