30.10.2017 | Ideas and Innovations | Ausgabe 2/2018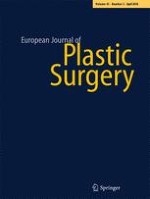 A novel technique for clinical examination of buried head and neck free flaps
Zeitschrift:
Autoren:

Damien Grinsell, Joseph J. Overland
Wichtige Hinweise
Electronic supplementary material
Abstract
Monitoring buried flaps within the head and neck presents a unique challenge to the microsurgeon. We conducted an independent review of the literature using Medline, PubMed and Q Read performed up to February 2017. This showed that head and neck free flaps have contemporary success rates of between 92 and 98%, which is similar to rates reported for all types of flaps (90–98%). Studies looking specifically at buried free flaps were scarce, with success rates (90–98%) precisely mirroring those of studies looking at all flaps. In studies in which both buried and non-buried flaps were stratified, buried flaps did have lower rates of success (93.5 vs. 98.2% and 93 vs. 98%). While overall success rates may have been similar, lower rates of salvage were clearly shown for buried flaps. Salvage rates ranged from 0 to 75%. The highest rate was achieved using implantable Doppler, which has been shown to increase salvage rates by up to 21%. However, this technique is associated with significant rates of false positives, which have been shown to be between 8 and 40.4% Another monitoring technique in use for buried flaps was externalised monitoring segments, which has been associated with higher rates of pharyngeal fistula in head and neck reconstruction. In this article, we present a variation of the Acland's empty-and-refill test which may be used to monitor buried flaps that have a venous anastomosis in an end-to-end fashion to the external jugular vein.
Level of Evidence: Level IV, diagnostic study.