19.01.2017 | Original Article | Ausgabe 4/2018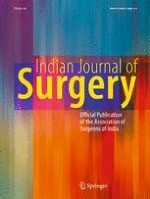 A Novel Way of Linen Management in an Acute Care Surgical Center
Zeitschrift:
Autoren:

Kanika Jain, Deepti Sahran, Maneesh Singhal, M. C. Misra
Abstract
Efficiency-driven services are the need of the hour in the healthcare organizations of today. Authors envisaged an efficient linen management system by creating a hybrid amongst the two most prevalent methods of linen management which they have been practicing. The study was conducted with the aim to ascertain the impacts of a streamlined centralized linen management system on clinical care and patient and staff satisfaction at an acute care surgical centre. The study is a cross sectional observational study conducted at a 200 bedded acute care surgical centre of the country over a period of 2 years. All stock registers and complaints with respect to linen management received during the study duration were perused and compiled. Patients and staff satisfaction with respect to linen being supplied in the centre were studied using a structured validated questionnaire. Cost implications of setting up such a department has also been determined by considering the different cost heads required to set up such a facility in an already existing set up. Data was compiled and analysed using appropriate statistical tests such as
t
test and percent increase. A central linen facility was created at the centre with the aim to streamline linen distribution and handling. Since the inception of this facility, it was found that there was a −0.89% increase in the number of complaints received with respect to linen in August 2014 and February 2016.The amount of linen received by the laundry (including blankets) for washing over the years has increased significantly. On measuring satisfaction, it was ascertained that almost all patients were satisfied with the linen being provided at the centre. Amongst the staff, it was observed that the staff was satisfied with the quantity, quality and timeliness of the linen provided. In addition, 66.66% respondents agreed that the linen in the centre was better than the ones being provided in other hospital, while 78.57% agreed that the location of the central linen facility was apt. The total cost determined to set up a central linen facility is approximately Rs.5,56,000. Centralised facilities in high turnover acute surgical facilities could be a successful model which can be adopted by other healthcare organizations who are trying to bring efficiency in their systems. In additions, creation of such systems annuls surgical delays which happen due to improper linen supply.