01.12.2018 | Case report | Ausgabe 1/2018 Open Access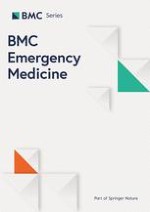 A patient full of surprises: a body packer with cocaine intoxication, pneumococcal pneumonia and HIV infection
Zeitschrift:
Autoren:

Miriam Luginbühl, Timo Junker, Dagmar I. Keller
Abstract
Background
Smuggling of illegal drugs by hiding them inside one's own body, also called body packing, is a worldwide phenomenon. Cocaine is the most frequently transported drug. Body packing is a potentially lethal practice. The most serious complications of body packing are gastrointestinal obstruction or perforation and drug toxicity due to packet leakage or rupture.
Case presentation
A 30-year-old confirmed body packer was brought to our emergency department from jail because of agitation and mydriasis. He presented with a high respiratory rate of 40/min but normal oxygen saturation on ambient air, a heart rate of 116 bpm, a blood pressure of 116/68 mmHg and a temperature of 38.0° Celsius. Blood tests were suggestive of infection, urine analysis was positive for cocaine. Abdominal and thoracic computed tomography scans showed pulmonary infiltrates as a possible focus of infection; signs of bowel obstruction or perforation were absent. Given his clinical presentation, we suspected severe infection rather than massive cocaine intoxication to be the main problem. We therefore withheld immediate surgical decontamination. Instead, we started broad-spectrum antibiotic treatment with piperacillin/tazobactam plus clarithromycin for suspected severe community-acquired pneumonia or abdominal sepsis and treated the patient with intravenous midazolam for symptomatic cocaine intoxication. After detection of urinary pneumococcal antigen, the antibacterial regimen was changed to ceftriaxone and vancomycin for pneumococcal pneumonia. In addition, we found human immunodeficiency virus (HIV) type 1 infection as underlying disease. The patient recovered from his acute illness and was discharged after 7 days of treatment with ceftriaxone plus vancomycin. Antiretroviral therapy was started in an outpatient setting.
Conclusions
With this case report, we emphasize the need to look for alternative diagnoses to intoxication and gastrointestinal obstruction in acutely ill body packers with atypical presentation. Special risks, such as underlying HIV infection and potential antimicrobial resistance according to the individual's geographical origin, should be taken into account while treating these patients.