01.12.2017 | Case Report | Ausgabe 1/2017 Open Access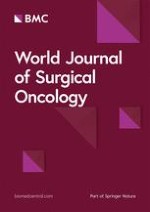 A peculiar case report of extraovarian Brenner tumor arising in the omentum
Zeitschrift:
Autoren:

Chung Su Hwang, Chang Hun Lee, So Jeong Lee, Young Geum Kim, Ahrong Kim, Do Youn Park, Hyun Jeong Kang, Dong Hoon Shin
Abstract
Background
Brenner tumors almost always develop in the ovary. Exceptionally, extraovarian Brenner tumors have been reported in the lower abdomen or pelvic organs. Here, we introduce a peculiar case of an extraovarian Brenner tumor arising in the omentum.
Case presentation
A 43-year-old woman presented with a palpable abdominal mass. Computed tomography (CT) scan revealed a 9.0-cm solid mass in the omentum. The tumor was not associated with pelvic structures, including the ovaries. It was excised under the clinical impression of an extragastrointestinal stromal tumor or neurogenic tumor. Grossly, the mass was a well-circumscribed solid tumor, with yellow-tan cut surface and minute cystic spaces. Microscopically, the tumor showed well-defined epithelial nests with variable cystic changes embedded in an abundant fibrous stroma. The cells within the nests were reminiscent of benign urothelial cells in that they had oval, frequently grooved nuclei. The epithelial cells focally showed a gradual transition into the surrounding stromal cells with short spindled features. The urothelium-like cells were positive for pancytokeratin, WT-1, p63, CK7, uroplakin-III, and GATA-3 but were negative for CD34, CD10, CK20, c-KIT, DOG-1, PAX-8, and calretinin. Morphological and immunohistochemical features of the tumor were the same as an ovarian Brenner tumor, and so it was diagnosed as an extraovarian Brenner tumor.
Conclusions
Although the location of the tumor was very unusual, we could diagnose the tumor as an extraovarian Brenner tumor on the basis of the histologic and immunohistochemical findings. This is the first case of extraovarian Brenner tumor arising in the omentum near the stomach ever reported in the English literature.