16.05.2019 | Original Article | Ausgabe 1/2019 Open Access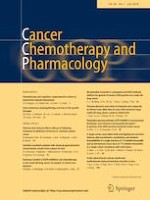 A phase 2 study to assess the pharmacokinetics and pharmacodynamics of CPX-351 and its effects on cardiac repolarization in patients with acute leukemias
Zeitschrift:
Autoren:

Tara L. Lin, Laura F. Newell, Robert K. Stuart, Laura C. Michaelis, Eric Rubenstein, Helen S. Pentikis, Timothy Callahan, Donna Alvarez, Barry D. Liboiron, Lawrence D. Mayer, Qi Wang, Kamalika Banerjee, Arthur C. Louie
Wichtige Hinweise
Electronic supplementary material
Kamalika Banerjee and Arthur C. Louie were employees of Jazz Pharmaceuticals, Inc., at the time this study and subsequent analyses were performed.
Publisher's Note
Springer Nature remains neutral with regard to jurisdictional claims in published maps and institutional affiliations.
Abstract
Purpose
Daunorubicin can induce left ventricular dysfunction and QT interval prolongation. This study assessed the effects of CPX-351, a liposomal encapsulation of cytarabine and daunorubicin, on cardiac repolarization.
Methods
Twenty-six adults with acute leukemia were treated with CPX-351 for 1–2 induction cycles and ≤ 4 consolidation cycles. The primary endpoint was mean change in QTcF from baseline.
Results
Mean QTcF changes were < 10 ms at all time points. No clinically meaningful effects on heart rate, QRS interval, PR interval, or QTcB were observed. Estimated mean half-lives for total cytarabine and daunorubicin were > 30 h. Thirteen (50%) patients achieved remission. The most common adverse events were febrile neutropenia, fatigue, and nausea.
Conclusions
The cytarabine and daunorubicin in CPX-351 liposomes were metabolized and excreted similarly to conventional formulation; however, plasma pharmacokinetics were altered. CPX-351 did not prolong the QT interval, suggesting that CPX-351 may induce less cardiotoxicity than previously reported for conventional daunorubicin.
Trial registration
Clinicaltrials.gov identifier: NCT02238925.