01.03.2012 | Original Article | Ausgabe 3/2012 Open Access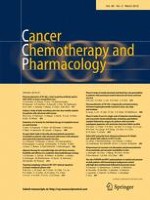 A phase I dose-escalation and pharmacokinetic study of sunitinib in combination with pemetrexed in patients with advanced solid malignancies, with an expanded cohort in non-small cell lung cancer
Zeitschrift:
Autoren:

L. Q. M. Chow, N. Blais, D. J. Jonker, S. A. Laurie, S. G. Diab, C. Canil, M. McWilliam, A. Thall, A. Ruiz-Garcia, K. Zhang, L. Tye, R. C. Chao, D. R. Camidge
Introduction
Patients and methods
Study population
Male or female patients, 18 years or older, with Eastern Cooperative Oncology Group (ECOG) performance status of 0 or 1 were considered for study entry into the original cohort. Patients were eligible if they had a diagnosis of a solid malignancy that was histologically or cytopathologically confirmed and refractory to standard therapy, or for which no standard therapy existed. Eligibility criteria included adequate organ function (including bone marrow, kidney, and liver), and a life expectancy of ≥12 weeks. In the NSCLC expansion cohort, previously treated and/or platinum refractory/intolerant patients with recurrent or advanced NSCLC of all histological subtypes were eligible for enrollment.
Patients were excluded if they had uncontrolled or symptomatic brain metastases, gross hemoptysis (≥5 mL per episode or ≥10 mL per day) within 4 weeks of study start, uncontrolled hypertension (>150/100 mmHg) despite standard antihypertensive agents, or cardiac disease, cerebrovascular accident or pulmonary embolism within 12 months of starting on study. Other exclusion criteria included National Cancer Institute (NCI) Common Terminology Criteria for Adverse Events (CTCAE version 3.0) grade 3 hemorrhage within 4 weeks of treatment, ongoing cardiac dysrhythmias of grade ≥2, atrial fibrillation of any grade, prolongation of the QTc interval (>450 ms for men or >470 ms for women), or prior treatment with pemetrexed or sunitinib.
Study design and treatment
This open-label, multicenter, phase I trial (NCT00528619) conducted in the US and Canada investigated escalating doses of sunitinib plus pemetrexed in combination with serial patient cohorts. The primary end point was the determination of the toxicity profile to establish the MTDs of sunitinib administered in combination with pemetrexed in patients with advanced solid malignancies. Secondary end points included safety, pharmacokinetic (PK) profile, and preliminary antitumor activity of this combination.
Sunitinib was administered orally once daily on either the CDD schedule or 2 weeks on treatment followed by 1 week off treatment schedule (Schedule 2/1). Pemetrexed was administered once every 3 weeks (q3w). Planned dose cohorts followed a standard dose escalation 3 + 3 design of sunitinib (37.5 mg to 50 mg) and pemetrexed (300–500 mg/m 2 IV), beginning with the CDD schedule. Each treatment cycle lasted 3 weeks, and patients could receive up to eight cycles of combination treatment. When discontinuations occurred for reasons other than treatment-related toxicity during the dose-limiting toxicity (DLT) observation timeframe, patients were replaced. Patients who continued to receive clinical benefit were eligible to enter a continuation protocol with the combination or with sunitinib alone. At the discretion of the investigator, patients with progressive disease who were still benefiting from treatment (e.g., in the presence of isolated central nervous system progression) could also receive sunitinib or the treatment combination within the same continuation protocol. The MTD was defined as the highest dose cohort where 0/3 or ≤1/6 patients experienced a DLT, with the next highest dose having at least 2/3 or 2/6 patients who experienced a DLT. DLTs were defined as the occurrence during cycle 1 of grade 3 or 4 drug-related toxicities, including neutropenia (grade 3 with infection; grade 4 ≥ 7 days or febrile > 24 h), thrombocytopenia (grade ≥ 3 with bleeding or grade 4 ≥ 7 days), and any grade 3/4 non-hematologic toxicity ≥7 days or that resulted in a delay in administration of cycle 2 as scheduled. If the MTD on the CDD schedule was established at sunitinib 50 mg/day + pemetrexed 500 mg/m 2, the MTD on Schedule 2/1 was to be the same dose level without being formally tested. Provided that the CDD schedule MTD was established at sunitinib 37.5 mg/day + pemetrexed 500 mg/m 2 or lower, the starting dose for Schedule 2/1 was to be the lowest non-tolerated dose on the CDD schedule. Depending on the doses of sunitinib determined to be tolerable on Schedule 2/1 and the CDD schedule, one cohort would be nominated for further exploration at the MTD to establish a proposed RP2D and schedule and expanded to enroll an additional 15 patients with locally advanced/metastatic NSCLC (the NSCLC expansion cohort).
Intra-patient dose reduction (relative to the lowest dose of the current cycle and at the discretion of the investigator) was permitted if a patient experienced a grade 3 or 4 toxicity considered attributable to either study drug, provided that criteria for patient withdrawal from study treatment were not met. Guidelines suggested reducing pemetrexed by an increment of 100 mg/m 2 and reducing sunitinib daily dosing by 12.5 mg. If grade 3 or 4 toxicities recurred, patients could undergo further dose reduction in subsequent cycles up to a maximum of 2 dose reductions in any drug; the minimum dose for pemetrexed was 200 mg/m 2 and for sunitinib was 25 mg daily. Assigned doses during the PK portion of the study (cycle 1 day 1 through cycle 2 day 2) were maintained when possible to allow for valid comparisons.
The investigator could delay sunitinib dosing for patients experiencing treatment-related toxicity, but it was recommended that patients requiring dose delay longer than 4 weeks in duration on either schedule were withdrawn. Pemetrexed was withheld if creatinine clearance was less than 45 mL/min and the decision for future dosing was then made by the investigator.
All patients provided written, informed consent. The study was approved by the institutional review board of each participating center and carried out in accordance with the International Conference on Harmonization Good Clinical Practice guidelines and applicable local laws and regulatory requirements.
Study assessments
Safety was evaluated throughout the study by the assessment of adverse events (AEs; NCI CTCAE version 3.0), laboratory abnormalities, physical examinations, performance status, vital signs, and electrocardiogram (ECG) profiles. AEs considered by the investigator to be related to either study drug were evaluated to determine the safety of this combination. In patients with measurable disease, objective response was determined according to Response Evaluation Criteria in Solid Tumors (RECIST v.1.0) [
30
].
Pharmacokinetic assessments
Blood samples for pharmacokinetic (PK) assessment were collected in K 2EDTA tubes and sent to Bioanalytical Systems Inc (West Lafayette, IN, USA) for analysis. The plasma PK samples were analyzed using Pfizer-proprietary validated, sensitive, and specific high-performance liquid chromatographic tandem mass spectrometric (HPLC–MS/MS) methods, in compliance with Pfizer's standard operating procedures.
The analytical method used for the determination of sunitinib and its metabolite showed precision of ≤6.1% (sunitinib) or ≤8.9% (metabolite), expressed as the between-day coefficients of variation (%CV) of the mean estimated concentrations of the quality control (QC) samples and accuracy ranging from −2.0 to 0.0% (sunitinib) or −5.0 to 1.4% (metabolite) expressed as the percent relative error (% RE) of the QC samples. The lower limit of quantitation (LLOQ) of the assay was 0.100 ng/mL for both sunitinib and its metabolite, and the upper limit of quantitation (ULOQ) was 60.0 ng/mL for sunitinib and 20.0 ng/mL for the metabolite.
The analytical method used for the determination of pemetrexed showed precision of ≤13.3%, expressed as the between-day %CV of the mean estimated concentrations of the QC samples and accuracy ranging from 0.3 to 2.2% expressed as the % RE of the QC samples. The LLOQ of the pemetrexed assay was 0.100 μg/mL and the ULOQ was 100 μg/mL.
Full PK profiles were obtained from patients on the CDD schedule for sunitinib, its active metabolite SU12662, sunitinib + SU12662, and pemetrexed. Pemetrexed PK samples were collected on cycle 1 day 1 (i.e., in the absence of sunitinib) and cycle 2 day 1; predose, and 10 min, 1, 2, 4, 6, 8, 10, and 24 h post-pemetrexed dosing. Sunitinib PK samples were collected on cycle 1 day 15 (i.e., steady state levels of sunitinib in the absence of pemetrexed) and on cycle 2 day 1 predosing with pemetrexed or sunitinib, and then 1, 2, 4, 6, 8, 10, and 24 h post-sunitinib dosing. Only patients that received at least 10 consecutive doses of sunitinib prior to sample collection on cycle 1 day 15 and cycle 2 day 1 were included in the summary to ensure that steady state had been achieved. PK analyses were performed on both the original dose-escalation cohorts and on the expanded NSCLC cohort. On Schedule 2/1, samples were collected only on day 1 of cycle 2.
Statistical methods
Due to the exploratory nature of this study, no confirmatory inferential statistical analyses were planned. Descriptive statistics were used to summarize all patient characteristics, treatment administration/compliance, safety, PK parameters, and antitumor activity. Standard plasma PK parameters were estimated using non-compartmental methods.
Results
Discussion
The primary objective of this phase I dose-escalation study was to assess the MTD, safety, and tolerability of sunitinib, administered on the CDD schedule or Schedule 2/1, in combination with pemetrexed in patients with advanced solid malignancies refractory to standard therapy or for which standard therapy was not available. In anticipation that this combination could potentially be used in patients with advanced NSCLC or mesothelioma, the MTD cohort was expanded to further define the safety and antitumor activity for the RP2D.
In summary, it was possible to administer potentially efficacious doses of sunitinib on either a CDD schedule or on Schedule 2/1 with full doses of pemetrexed in this phase I study. Treatment was associated with an acceptable toxicity profile, with a slow cumulative need for dose modifications after multiple cycles. No clinically significant drug–drug interactions were observed. Sunitinib plus pemetrexed on a CDD schedule at the MTD was selected as the potential RP2D and was well tolerated. This dose/regimen demonstrated substantial clinical activity among NSCLC patients. In addition to determining the recommended dosing regimen for further exploration compared with pemetrexed monotherapy, these data also inform the starting doses for possible further exploration in combination with a platinum agent, given the increasing use of pemetrexed–platinum doublets in the first-line treatment of advanced NSCLC.
Acknowledgments
We would like to thank all of the participating patients and their families, as well as the global network of investigators, research nurses, study coordinators, and operations staff. We would also like to acknowledge Tanya Boutros for her work in coordinating the acquisition of PK data as well as contributing to the methods section. Medical writing support was provided by Lisa Cheyne at ACUMED ® (Tytherington, UK) and was funded by Pfizer Inc. This study was sponsored by Pfizer Inc.
Conflict of interest
L. Q. M. Chow, D. Jonker, S. A. Laurie, S. G. Diab, M. McWilliam, D. R. Camidge have no conflicts of interest to declare. C. Canil received an educational travel grant, honoraria for an advisory board, and speaker fees from Pfizer Inc. N. Blais received a research grant from Pfizer Inc. R. C. Chao, K. Zhang, A. Ruiz-Garcia, A. Thall, and L. Tye are employees of Pfizer Inc. and hold stock in Pfizer Inc., the manufacturers of SUTENT ®.
Open Access
This article is distributed under the terms of the Creative Commons Attribution Noncommercial License which permits any noncommercial use, distribution, and reproduction in any medium, provided the original author(s) and source are credited.
Open Access
This is an open access article distributed under the terms of the Creative Commons Attribution Noncommercial License (
https://​creativecommons.​org/​licenses/​by-nc/​2.​0
), which permits any noncommercial use, distribution, and reproduction in any medium, provided the original author(s) and source are credited.