01.12.2016 | Study protocol | Ausgabe 1/2016 Open Access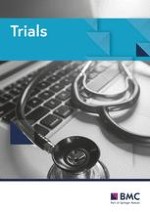 A phase I followed by a randomized phase II trial of two cycles carboplatin-olaparib followed by olaparib monotherapy versus capecitabine in
BRCA1

- or

BRCA2

-mutated HER2-negative advanced breast cancer as first line treatment (REVIVAL): study protocol for a randomized controlled trial
Zeitschrift:
Autoren:

Philip C. Schouten, Gwen M. H. E. Dackus, Serena Marchetti, Harm van Tinteren, Gabe S. Sonke, Jan H. M. Schellens, Sabine C. Linn
Wichtige Hinweise
Electronic supplementary material
The online version of this article (doi:
10.​1186/​s13063-016-1423-0
) contains supplementary material, which is available to authorized users.
Abstract
Background
Preclinical studies in breast cancer models showed that
BRCA1
or
BRCA2
deficient cell lines, when compared to
BRCA
proficient cell lines, are extremely sensitive to PARP1 inhibition. When combining the PARP1 inhibitor olaparib with cisplatin in a
BRCA1
-mutated breast cancer mouse model, the combination induced a larger response than either of the two compounds alone. Several clinical studies have investigated single agent therapy or combinations of both drugs, but no randomized clinical evidence exists for the superiority of carboplatin-olaparib versus standard of care therapy in patients with
BRCA1
- or
BRCA2
--mutated metastatic breast cancer.
Methods/design
This investigator-initiated study contains two parts. Part 1 is a traditional 3 + 3 dose escalation study of the carboplatin-olaparib combination followed by olaparib monotherapy. The carboplatin dose will be escalated from area under the curve (AUC) 3 to AUC 4 with an olaparib dose of 25 mg BID. Olaparib is subsequently escalated to 50, 75, and 100 mg BID until >1/6 of patients develop dose-limiting toxicity (DLT). The dose level below will be the maximum tolerable dose (MTD). It is expected that 15–20 patients are needed in Part I.
In Part 2
BRCA1
- or
BRCA2
-mutated HER2-negative breast cancer patients will be randomized between standard capecitabine 1250 mg/m
2
BID day 1–14 q day 22, versus 2 cycles carboplatin-olaparib followed by olaparib monotherapy 300 mg BID. In total 104 events in 110 patients need to be observed to detect a 75 % clinically meaningful improvement in progression-free survival (PFS), from a median of 4 months (control) to 7 months (experimental) assuming a 2-year accrual and ≥6 months of follow-up with 80 % power (5 %, two-sided significance level). After progression on first line treatment, patients will receive physician's best choice of paclitaxel, vinorelbine, eribulin, or capecitabine (experimental arm only) at standard dose. A compassionate use program of olaparib is available for patients in the standard arm after progression on second line treatment.
Discussion
Results might be pivotal for registration of olaparib as standard first line treatment in advanced
BRCA1
- or
BRCA2
-mutated breast cancer.
Trial registration
ClinicalTrials.gov identifier:
NCT02418624
. Registered on 9 March 2015. EudraCT number: 2013-005590-41. Registered on 15 October 2014. Protocol version 3.0.