01.11.2010 | Clinical Study – Patient Study | Ausgabe 2/2010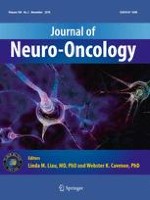 A phase I/II trial and pharmacokinetic study of ixabepilone in adult patients with recurrent high-grade gliomas
Zeitschrift:
Autoren:

David M. Peereboom, Jeffrey G. Supko, Kathryn A. Carson, Tracy Batchelor, Surasak Phuphanich, Glenn Lesser, Tom Mikkelson, Joy Fisher, Serena Desideri, Xiaoying He, Stuart A. Grossman, The New Approaches to Brain Tumor Therapy (NABTT) Consortium
Abstract
Ixabepilone is an epothilone, a novel class of non-taxane microtubule stabilizing agents. A phase I/II and pharmacokinetic trial of ixabepilone was conducted in patients with recurrent high-grade gliomas. Adult patients received ixabepilone as a 1-h infusion daily for 5 days every 3 weeks. A modified continual reassessment method was used to escalate doses, beginning at 5.0 mg/m
2
, in patients stratified by use or non-use of enzyme inducing antiepileptic drugs (EIAED). In the phase I study, the maximum tolerated dose (MTD) and pharmacokinetics of ixabepilone were determined for each group. The phase II study used a two-stage design to evaluate response rate. Secondary endpoints were survival and 6-month progression free survival. In the phase I trial, 38 patients (median age 54 years) were enrolled. The MTD was 6.8 mg/m
2
for patients not taking EIAEDs and 9.6 mg/m
2
for those taking EIAEDs. The dose limiting toxicities in both groups were hematologic. Twenty-three patients (median age 54 years) were enrolled in the first stage of the phase II trial. No objective responses were observed. Median overall survival was 5.8 (95% CI, 5.0–8.6) months and 6-month PFS rate was 4% (95% CI, 0–22%). The overall mean total body clearance for ixabepilone was significantly higher (
P
= 0.003) in patients receiving EIAEDs (36 ± 11 l/h/m
2
) than those not (24 ± 9.2 l/h/m
2
). Patients on EIAEDs had a substantially higher MTD likely due to induction of cytochrome P450. Ixabepilone had no activity in patients with recurrent high-grade gliomas.