27.10.2016 | Original Article | Ausgabe 6/2016 Open Access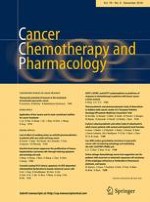 A phase I pharmacokinetic and safety study of cabazitaxel in adult cancer patients with normal and impaired renal function
Zeitschrift:
Autoren:

Analía Azaro, Jordi Rodón, Jean-Pascal Machiels, Sylvie Rottey, Silvia Damian, Richard Baird, Javier Garcia-Corbacho, Ron H. J. Mathijssen, Pierre-François Clot, Claudine Wack, Liji Shen, Maja J. A. de Jonge
Abstract
Purpose
Limited data are available on cabazitaxel pharmacokinetics in patients with renal impairment. This open-label, multicenter study assessed cabazitaxel in patients with advanced solid tumors and normal or impaired renal function.
Methods
Cohorts A (normal renal function: creatinine clearance [CrCL] >80 mL/min/1.73 m
2
), B (moderate renal impairment: CrCL 30 to <50 mL/min/1.73 m
2
) and C (severe impairment: CrCL <30 mL/min/1.73 m
2
) received cabazitaxel 25 mg/m
2
(A, B) or 20 mg/m
2
(C, could be escalated to 25 mg/m
2
), once every 3 weeks. Pharmacokinetic parameters and cabazitaxel unbound fraction (
F
U
) were assessed using linear regression and mixed models. Geometric mean (GM) and GM ratios (GMRs) were determined using mean CrCL intervals (moderate and severe renal impairment: 40 and 15 mL/min/1.73 m
2
) versus a control (90 mL/min/1.73 m
2
).
Results
Overall, 25 patients received cabazitaxel (median cycles: 3 [range 1–20]; Cohort A: 5 [2–13]; Cohort B: 3 [1–15]; and Cohort C: 5 [1–20]), of which 24 were eligible for pharmacokinetic analysis (eight in each cohort). For moderate and severe renal impairment versus normal renal function, GMR estimates were: clearance normalized to body surface area (CL/BSA) 0.95 (90% CI 0.80–1.13) and 0.89 (0.61–1.32); area under the curve normalized to dose (AUC/dose) 1.06 (0.88–1.27) and 1.14 (0.76–1.71); and
F
U
0.99 (0.94–1.04) and 0.97 (0.87–1.09), respectively. Estimated slopes of linear regression of log parameters versus log CrCL (renal impairment) were: CL/BSA 0.06 (−0.15 to 0.28); AUC/dose −0.07 (−0.30 to 0.16); and
F
U
0.02 (−0.05 to 0.08). Cabazitaxel safety profile was consistent with previous reports.
Conclusions
Renal impairment had no clinically meaningful effect on cabazitaxel pharmacokinetics.