01.03.2012 | Original Article | Ausgabe 3/2012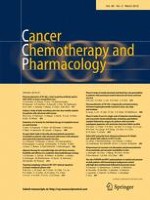 A phase I study of daily everolimus plus low-dose weekly cisplatin for patients with advanced solid tumors
Zeitschrift:
Autoren:

Matthew G. Fury, Eric Sherman, Sofia Haque, Susan Korte, Donna Lisa, Ronglai Shen, Nian Wu, David Pfister
Abstract
Purpose
Preclinical studies demonstrate synergistic anti-tumor activity with the combination of everolimus and cisplatin. We conducted a phase I study to establish the recommended phase II of oral everolimus to be given with low-dose weekly intravenous cisplatin.
Methods
Part A used a standard 3 + 3 dose escalation scheme. There were 4 planned dose levels of everolimus: 2.5, 5, 7.5, and 10 mg/day. Subjects received oral everolimus during days 1–21 and cisplatin 20 mg/m2 intravenously (fixed dose) on days 1, 8, and 15 of a 28-day cycle. Pharmacokinetic (PK) blood samples were collected on day 1 and day 8 of cycle 1 in Part A. After the phase II recommended dose was established (Part A), 6 additional subjects were enrolled in an expansion cohort (Part B). Response was assessed by RECIST q 2 cycles for all subjects.
Results
Thirty patients were enrolled (18 male, 12 female) and 29 were treated. Median age was 61 years (31–79) and the median number of prior cytotoxic chemotherapy regimens was 2 (0–3). Eighty-three percent of subjects had received prior RT. DLTs occurred at dose level 1 (sudden death of unclear cause in a patient with melanoma metastatic to liver) and dose level 2 (bowel obstruction). No DLTs occurred at dose levels 3 and 4. The most common adverse events (≥grade 3) among 28 patients evaluable for toxicity were lymphopenia (36%), hyperglycemia (11%), fatigue (11%), and venous thrombosis (11%). PK analysis of everolimus demonstrated dose-proportional increases in
C
max
(mean 91.9 ng/ml) and AUC
0-INF
(mean 680.5 h*ng/ml) at dose level 4. Three partial responses were seen (metastatic pulmonary carcinoid,
n
= 2; metastatic sinus carcinoma,
n
= 1). Prolonged stable disease ≥6 cycles occurred in subjects with pulmonary carcinoid, oropharyngeal squamous cell carcinoma, basal cell carcinoma, papillary thyroid carcinoma, and esthesioneuroblastoma (
n
= 1 each).
Conclusion
The phase II recommended dose is everolimus 10 mg/day (days 1–21) + cisplatin 20 mg/m2 (days 1, 8, and 15) of a 28-day cycle. PK data demonstrate dose-proportional increases in exposure, as previously described for everolimus monotherapy. Anti-tumor activity was observed in several tumor types.