19.09.2019 | Clinical Trial Report | Ausgabe 5/2019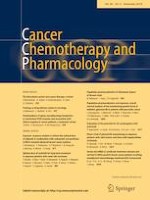 A phase I study of HER1, HER2 dual kinase inhibitor lapatinib plus the proteasome inhibitor bortezomib in patients with advanced malignancies
Zeitschrift:
Autoren:

Filipa Lynce, Hongkun Wang, Emanuel F. Petricoin, Paula R. Pohlmann, Brandon Smaglo, Jimmy Hwang, Aiwu R. He, Deepa S. Subramaniam, John Deeken, John Marshall, Michael J. Pishvaian
Wichtige Hinweise
Publisher's Note
Springer Nature remains neutral with regard to jurisdictional claims in published maps and institutional affiliations.
Abstract
Purpose
This phase I trial evaluated the maximum tolerated dose, safety and preliminary efficacy of lapatinib, a HER1, HER2 dual kinase inhibitor plus bortezomib, a proteasome inhibitor, in adult patients with advanced malignancies.
Methods
Patients were enrolled in a standard 3 + 3 design with lapatinib (L) 750, 1000, 1250 or 1500 mg daily, and bortezomib (B) 0.7, 1.0, 1.3 or 1.6 mg/m2 for 3 weeks with 1 week off. Dose-limiting toxicities (DLT) were assessed during the first 28 days
Results
Fifteen patients received the combination of lapatinib and bortezomib in three different cohorts and ten were evaluable for DLT. There were no DLTs. Anorexia was the most common adverse event. Biomarker analysis showed upregulation of p27 expression with lapatinib and the combination. No tumor response was observed and thus the study was closed early.
Conclusion
The combination of lapatinib and bortezomib was well tolerated but no complete or partial tumor responses were observed at the dose levels tested.
ClinicalTrials.gov Identifier
NCT01497626.