01.04.2016 | PHASE I STUDIES | Ausgabe 2/2016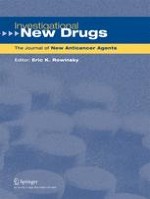 A phase I study of selumetinib (AZD6244/ARRY-142866), a MEK1/2 inhibitor, in combination with cetuximab in refractory solid tumors and
KRAS

mutant colorectal cancer
Zeitschrift:
Autoren:

Dustin A. Deming, Ludmila L. Cavalcante, Sam J. Lubner, Daniel L. Mulkerin, Noelle K. LoConte, Jens C. Eickhoff, Jill M. Kolesar, Suzanne Fioravanti, Tim F. Greten, Kathryn Compton, Austin G. Doyle, George Wilding, Austin Duffy, Glenn Liu
Summary
Background KRAS
mutations are clinically important predictors of resistance to EGFR-directed therapies in colorectal cancer (CRC). Oncogenic activation of the RAS/RAF/MEK/ERK signaling cascade mediates proliferation independent of growth factor signaling. We hypothesized that targeting MEK with selumetinib could overcome resistance to cetuximab in
KRAS
mutant CRC.
Methods
A phase I study (NCT01287130) was undertaken to determine the tolerability, and pharmacokinetic profiles of the combination of selumetinib and cetuximab, with an expanded cohort in
KRAS
-mutant CRC.
Results
15 patients were treated in the dose escalation cohort and 18 patients were treated in the expansion cohort. Two dose-limiting toxicities were observed. One grade 3 acneiform rash and one grade 4 hypomagnesemia occurred. The most common grade 1 and 2 adverse events included rash, nausea/vomiting, diarrhea, and fatigue. The maximum tolerated dose was established at selumetinib 75 mg PO BID and cetuximab 250 mg/m
2
weekly following a 400 mg/m
2
load. Best clinical response in the dose escalation group included 1 unconfirmed partial response in a patient with CRC and stable disease (SD) in 5 patients (1 squamous cell carcinoma of the tonsil, 1 non-small cell lung cancer, and 3 CRC), and in the
KRAS
-mutant CRC dose expansion cohort, of the 14 patients who were evaluable for response, 5 patients had SD and 9 patients had progressive disease.
Conclusions
The combination of selumetinib and cetuximab is safe and well tolerated. Minimal anti-tumor activity was observed in
KRAS
-mutant refractory metastatic CRC. Further investigations might be warranted in other cancer subtypes.