16.11.2016 | PHASE I STUDIES | Ausgabe 1/2017 Open Access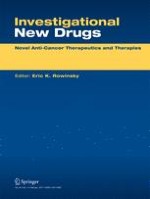 A phase I trial investigating pulsatile erlotinib in combination with gemcitabine and oxaliplatin in advanced biliary tract cancers
Zeitschrift:
Autoren:

Laura W. Goff, Dana B. Cardin, Jennifer G. Whisenant, Liping Du, Tatsuki Koyama, Kimberly B. Dahlman, Safia N. Salaria, Ruth T. Young, Kristen K. Ciombor, Jill Gilbert, Stephen James Smith, Emily Chan, Jordan Berlin
Wichtige Hinweise
Electronic supplementary material
The online version of this article (doi:
10.​1007/​s10637-016-0406-z
) contains supplementary material, which is available to authorized users.
Summary
Advanced biliary tract cancers (ABTC) are among the deadliest malignancies with limited treatment options after progression on standard-of-care chemotherapy, which includes gemcitabine (GEM) and oxaliplatin (OX). The epidermal growth factor receptor inhibitor erlotinib has been explored in ABTC with modest efficacy. Erlotinib given continuously may antagonize the action of chemotherapy against cycling tumor cells, but pulsatile dosing of erlotinib with chemotherapy may improve efficacy. The purpose of this study was to assess the safety of pulsatile erlotinib with GEMOX. This was a single-institution phase Ib study that enrolled adult patients with unresectable or metastatic biliary tract, pancreas, duodenal, or ampullary carcinomas that have not received any prior treatment for their disease. Dose escalation followed a standard 3 + 3 design, and dose-limiting toxicities (DLTs) were any treatment-related, first course non-hematologic grade ≥ 3 toxicity, except nausea/vomiting, or grade 4 hematologic toxicity. A dose expansion cohort in ABTC was treated at the MTD. Twenty-eight patients were enrolled and 4 dose levels were explored. The MTD was erlotinib 150 mg + GEM 800 mg/m2 + OX 85 mg/m2. DLTs were diarrhea and anemia. Most frequent toxicities were nausea (78 %), fatigue (71 %), neuropathy (68 %), and diarrhea (61 %), predominantly grade 1–2. In the ABTC patients, the objective response and disease control rates were 29 % and 94 %, respectively, and median overall survival was 18 months. Erlotinib plus GEMOX was well tolerated. Encouraging anti-tumor activity was seen as evidenced by a high disease control rate and longer median OS than standard chemotherapy in the patients with ABTC.