01.06.2011 | Original Article | Ausgabe 6/2011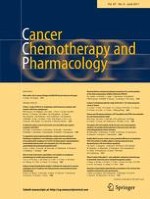 A phase II and pharmacokinetic study of first line S-1 for advanced gastric cancer in Taiwan
Zeitschrift:
Autoren:

Jen-Shi Chen, Yee Chao, Ruey-Kuen Hsieh, Ann-Lii Cheng, Po-Min Chen, Tzeon-Jye Chiou, Tsu-Yi Chao, Kun-Huei Yeh, Li-Tzong Chen, Jacqueline Whang-Peng
Wichtige Hinweise
Electronic supplementary material
The online version of this article (doi:
10.​1007/​s00280-010-1416-8
) contains supplementary material, which is available to authorized users.
Jen-Shi Chen and Yee Chao contributed equally to the manuscript.
The results of this study were presented at 2008 Gastrointestinal Cancer Symposium, American Society of Clinical Oncology, January 25–27 2008, Orlando, Florida, USA.
Abstract
Purpose
To evaluate the efficacy, safety and pharmacokinetic profiles of S-1, which composed of tegafur (FT, a prodrug of 5-FU), 5-chloro-2,4-dihydroxypyridine and potassium oxonate (Oxo), in Taiwanese advanced gastric cancer (AGC) patients.
Methods
Patients with chemo-naïve, histologically confirmed AGC were eligible. S-1 was given orally at dose of 40, 50 or 60 mg, twice daily for patients with body surface <1.25, 1.25–1.5 and >1.5 m2, respectively, on day 1–28 every 42 days/cycle.
Results
Thirty-four patients were included. On intent-to-treat analysis, the overall response rate, median progression-free and overall survival were 35.3% [95% confidence interval (CI): 19.2–51.3%], 2.9 (95% CI: 2.4–5.8) months and 9.8 (95% CI: 6.1–NA) months, respectively. The most common grade 3–4 toxicities were anemia 23.5% and neutropenia 11.8%. There were two treatment-related mortality, which occurred in patients with suboptimal renal function underestimated by serum creatinine level at study entry. Single-dose pharmacokinetic study showed trend toward lower AUC5–FU, and higher AUCFT and AUCOxo comparing to most Western reports.
Conclusions
The efficacy, toxicity and pharmacokinetic profiles of S-1 in current study are compatible with those from other Asian populations. Accurate renal function assessment and more closely monitoring is mandatory for S-1 therapy in patients with low body mass. Literature review suggests that, besides AUC5–FU, AUCOxo may also attribute to the difference in the compliance to S-1 between Asian and Caucasian populations.