19.05.2017 | PHASE II STUDIES | Ausgabe 5/2017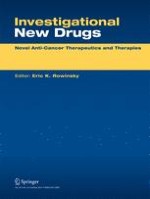 A phase II study of antibody-drug conjugate, TAK-264 (MLN0264) in previously treated patients with advanced or metastatic pancreatic adenocarcinoma expressing guanylyl cyclase C
Zeitschrift:
Autoren:

Khaldoun Almhanna, David Wright, Teresa Macarulla Mercade, Jean-Luc Van Laethem, Antonio Cubillo Gracian, Carmen Guillen-Ponce, Jason Faris, Carolina Muriel Lopez, Richard A. Hubner, Johanna Bendell, Alain Bols, Jaime Feliu, Naureen Starling, Peter Enzinger, Devalingham Mahalingham, Wells Messersmith, Huyuan Yang, Adedigbo Fasanmade, Hadi Danaee, Thea Kalebic
Summary
Background
This phase II open-label, multicenter study evaluated the efficacy, safety, and tolerability of TAK-264 in previously treated patients with advanced or metastatic pancreatic adenocarcinoma expressing guanylyl cyclase C (GCC).
Methods
Patients with advanced or metastatic pancreatic adenocarcinoma expressing GCC (H-score ≥ 10) received TAK-264 1.8 mg/kg on day 1 of a 21-day cycle as a 30-min intravenous infusion for up to 1 year or until disease progression or unacceptable toxicity. The primary objective was overall response rate (ORR [complete response + partial response (PR)]). Secondary objectives included evaluations of the safety and pharmacokinetic profile of TAK-264 (NCT02202785).
Results
43 patients were enrolled and treated with 1.8 mg/kg TAK-264: 11, 15, and 17 patients with low, intermediate, and high GCC expression, respectively. Median number of treatment cycles received was two (range 1–10). The ORR was 3
%
, including one patient with intermediate GCC expression who achieved a PR. All patients experienced ≥1 adverse events (AE). The majority of patients experienced grade 1/2 AEs affecting the gastrointestinal tract. Fifteen (35
%
) patients experienced ≥grade 3 drug-related AEs; five (12
%
) patients had a serious AE. The most common (≥10
%
of patients) all-grade drug-related AEs were nausea (33
%
), fatigue (28
%
), neutropenia (23
%
), decreased appetite (23
%
), vomiting (16
%
), asthenia (16
%
), and alopecia (14
%
).
Conclusions
TAK-264 demonstrated a manageable safety profile; however, the low efficacy of TAK-264 observed in this study did not support further clinical investigation.