01.12.2014 | PHASE II STUDIES | Ausgabe 6/2014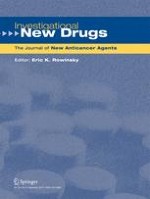 A Phase II study of bevacizumab in combination with trastuzumab and docetaxel in HER2 positive metastatic breast cancer
Zeitschrift:
Autoren:

Meng Zhao, Xueliang Pan, Rachel Layman, Maryam B. Lustberg, Ewa Mrozek, Erin R. Macrae, Robert Wesolowski, Sarah Carothers, Shannon Puhalla, Charles L. Shapiro, Bhuvaneswari Ramaswamy
Wichtige Hinweise
Presented in part at 2010 ASCO Breast Cancer Symposium
Summary
Background
Preclinical and early clinical data support the use of Vascular Epithelial Growth Factor (VEGF)-targeted therapy with trastuzumab in Human Epidermal Receptor 2 (HER2) positive breast cancer. Adding bevacizumab to a taxane (docetaxel or paclitaxel) improves progression free survival (PFS) of metastatic breast cancer (MBC) patients.
Objectives
We evaluated the efficacy and feasibility of combining bevacizumab with trastuzumab and docetaxel in patients with HER2- positive MBC who received 0–1 prior chemotherapy regimens for metastatic disease. The primary end point was PFS.
Materials and Methods
Eligible patients received bevacizumab (15 mg/kg), trastuzumab (8 mg/kg loading dose followed by 6 mg/kg), and docetaxel (100 mg/m2 initially, later amended to 75 mg/m2) every three weeks for six cycles and then were allowed to receive bevacizumab and trastuzumab alone.
Results
Thirteen (50 %) of 26 patients enrolled completed all 6 cycles of bevacizumab, trastuzumab and docetaxel and went on to receive bevacizumab and trastuzumab alone (median: 11 cycles). The most common grade 3 or 4 toxicities include: neutropenia (8 %), septic death (4 %), infection not associated with neutropenia (15 %), fatigue (27 %), mylagia and/or arthraligia (20 %), and hand-foot syndrome (8 %). One patient (4 %) and six patients (23 %) developed grade 3 and grade 2 hypertension, respectively. Two (8 %) patients had transient grade 2 drop in Left Ventricular Ejection Fraction (LVEF) with full recovery later. The median progression free survival (PFS) was 14.3 months (95 % CI: 9.3–35 months), the objective response rate (ORR), defined as the best response of complete response (CR) or partial response (PR) was (12/26) 46 %. The clinical benefit rate (CBR), defined as the best response of CR or PR or stable disease (SD) for at least 24 weeks, was (18/26) 69 % (95 % CI: 48–86 %).
Conclusion
The combination of bevacizumab, trastuzumab and docetaxel is well tolerated and is clinically active in patients with HER2-positive MBC, with response rate and PFS comparable to previous reports utilizing higher dose of docetaxel (100 mg/m2). Recent randomized trials did not demonstrate additional overall survival (OS) benefit of adding bevacizumab to trastuzumab and docetaxel despite an improvement in PFS. Identification of predictive biomarkers and careful patient selection should be incorporated in further investigation of anti-VEGF in breast cancer.