01.12.2017 | Research | Ausgabe 1/2017 Open Access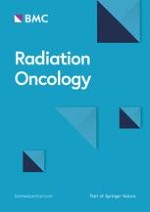 A phase II study of concurrent chemoradiotherapy combined with a weekly paclitaxel and 5-fluorouracil regimen to treat patients with advanced oesophageal carcinoma
Zeitschrift:
Autoren:

Yi Xia, Yun-hai Li, Yun Chen, Jun-hua Zhang, Qi Liu, Jia-ying Deng, Ta-shan Ai, Han-ting Zhu, Jian-hong Fan, Harun Badakhshi, Kuai-le Zhao
Abstract
Background
A phase II study was performed to investigate the safety and efficacy of weekly doses of combined paclitaxel and 5-fluorouracil (5-FU) with concurrent radiation therapy, followed by 2 cycles of consolidation chemotherapy to treat patients with advanced oesophageal carcinoma.
Methods
The eligibility criteria included local, advanced, newly diagnosed and postoperative local regional lymph node metastasis; an Eastern Cooperative Oncology Group (ECOG) score of ≤ 2; and adequate organ function. Patients received chemoradiotherapy consisting of radiotherapy (50.4 Gy/28 Fx or 61.2 Gy/34 Fx) and concurrent paclitaxel (50 mg/m2) and 5-FU (300 mg/m2) for 96 h on days 1, 8, 15, 22, and 29. The two-cycle consolidation chemotherapy protocol included paclitaxel (175 mg/m2) plus continuously infused 5-FU (1800 mg/m2) for 72 h administered on days 57 and 85, after concurrent chemoradiotherapy.
Results
Between February 2012 and August 2013, 53 patients with oesophageal carcinoma were enrolled in the study. Among these patients, 33 (62.2%) were newly diagnosed and 20 (37.7%) had postoperative local regional lymph node metastasis. The median overall survival (OS) time was 17.9 months (95% CIs = 11.9-23.9), and the median progression-free survival (PFS) time was 12.4 months (95% CIs = 8.6-16.1). Approximately 84.9% (45/53) and 50.9% (27/53) of the patients completed ≥ 5 cycles and all 7 cycles of chemotherapy, respectively. Approximately 86.7% (46/53) of patients completed radiation therapy. The 1-, 2-, and 3-year OS rates were 66.0%, 37.7%, and 35.8%, respectively. The 1-, 2-, and 3-year local control rates were 76.9%, 66.4%, and 66.4%, respectively. Seventeen patients (32%) experienced grade 3 or higher toxicity. Grade 3 to 5 toxicity during chemoradiotherapy included neutropaenia (7.5%), thrombocytopaenia (1.8%), fatigue (7.5%), anaemia (1.8%), dermatitis radiation (1.8%), pneumonitis (5.6%), oesophagitis (9.4%) and vomiting (3.7%).
Conclusions
The combination of weekly doses of paclitaxel and 5-FU was well tolerated and produced comparable results among patients with locally advanced oesophageal cancer. A randomised phase III trial (NCT01591135) comparing paclitaxel plus 5-FU with cisplatin plus 5-FU is on-going at our hospital.