01.12.2017 | Research | Ausgabe 1/2017 Open Access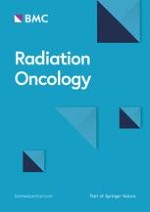 A phase II study of preoperative chemoradiation with tegafur-uracil plus leucovorin for locally advanced rectal cancer with pharmacogenetic analysis
Zeitschrift:
Autoren:

Sun Young Kim, Ji Yeon Baek, Jae Hwan Oh, Sung Chan Park, Dae Kyung Sohn, Min Ju Kim, Hee Jin Chang, Sun-Young Kong, Dae Yong Kim
Abstract
Background
This study aimed to evaluate the efficacy of a high dose of oral tegafur-uracil (400 mg/m
2
) plus leucovorin with preoperative chemoradiation of locally advanced rectal cancer and to explore the impact of polymorphisms of cytochrome P 2A6 (
CYP2A6
), uridine monophosphate synthetase (
UMPS
), and ATP-binding cassette B1 (
ABCB1
) on clinical outcome.
Methods
Patients with cT3 or cT4 rectal cancer were enrolled and were given tegafur-uracil 400 mg/m
2
/day and leucovorin 90 mg/m
2
/day for 7 days a week during preoperative chemoradiation (50.4 Gy/28 fractions) in this phase II trial. Primary endpoint was pathologic complete response rate, and the secondary endpoint was to explore the association between clinical outcomes and genetic polymorphisms
CYP2A6
(*4, *7, *9 and *10),
UMPS
G638C, and three
ABCB1
genotypes (C1236T, C3435T, and G2677T).
Results
Ninety-one patients were given study treatment, and 90 underwent surgery. Pathologic complete response was noted in 10 patients (11.1%). There was no grade 4 or 5 toxicity; 20 (22.0%) experienced grade 3 toxicities, including diarrhea (10, 11.0%), abdominal pain (2, 2.2%), and anemia (2, 2.2%). Relapse-free survival and overall survival at 5 years were 88.6% and 94.2%, respectively. Patients with the
UMPS
638 CC genotype experienced significantly more frequent grade 2 or 3 diarrhea (p for trend = 0.018).
Conclusions
Preoperative chemoradiation with tegafur-uracil 400 mg/m
2
/day with leucovorin was feasible, but did not meet the expected pathologic complete response rate. The
UMPS
638 CC genotype might be a candidate biomarker predicting toxicity in patients receiving tegafur-uracil/leucovorin-based preoperative chemoradiation for locally advanced rectal cancer.
Trial registration
ISRCTN11812525
, registered on 25 July 2016. Retrospectively registered.