01.12.2014 | Original Research | Ausgabe 4/2014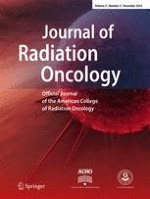 A phase II study of surgical excision, temozolomide, radiotherapy, and anti-EGFR radioimmunotherapy (EXTRA) as adjuvant therapy in high-grade gliomas
Zeitschrift:
Autoren:

Larry C. Daugherty, Brandon J. Fisher, Steven Morales, Ji Kim, Linna Li, Tony S. Quang, Jacqueline Emrich, Theodore Yaeger, Joseph M. Jenrette, Steven Cohen, Lydia T. Komarnicky, Katherine Tzou, Jennifer Peterson, Luther W. Brady
Abstract
Objective
Despite evolution in surgical technique, radiotherapy technology, and targeted systemic therapies, prognosis for patients with high-grade gliomas remains poor. Standard treatment consisting of surgery, adjuvant chemoradiation, and chemotherapy has marginally improved survival in these patients. A recent novel approach has been the addition of adjuvant radioimmunotherapy with 125I-labeled anti-epidermal growth factor receptor monoclonal antibody 425 (125I-epidermal growth factor receptor (EGFR) monoclonal antibody (MAb) 425), which demonstrated safety and efficacy in patients with glioblastoma. Many institutions choose to treat grade 3 gliomas in an identical fashion to grade 4 tumors. In this phase II clinical trial, we tested the efficacy of adjuvant radioimmunotherapy in patients with pathologic diagnosis of high-grade glioma comprising either glioblastoma (GBM) or astrocytoma with anaplastic foci (AAF).
Methods
Patients with newly diagnosed high-grade gliomas were eligible. Adjuvant radiotherapy was delivered with a median dose of 60 Gy after surgery. 125I-EGFR MAb 425 was given by three weekly intravenous injections of 1.85 GBq of radiolabeled 125I-EGFR MAb 425 following surgery and adjuvant radiation. When administered, temozolomide was given concominantly (75 mg/m2/day, 35–42 days) with radiotherapy followed by 6 cycles of adjuvant temozolomide (TMZ) (150–200 mg/m2/day × 5 days, every 28 days q28d). Median survival was the primary endpoint. We compared survival in three treatment groups: patients who underwent surgery followed by radiation (CTL), patients who underwent surgery and radiation followed by radioimmunotherapy (RIT), and patients who underwent RIT with the additional of temozolomide (RIT + TMZ).
Results
Between 1988 and 2008, a total of 390 patients with high-grade glioma underwent treatment at Hahnemann University Hospital with a median age of 48 years. Median survival in months was 7.3, 39.7, and 79.4 in the CTL, RIT, and RIT + TMZ arms, respectively. Multivariate analysis, which controlled for age and extent of surgery, demonstrated a persistent survival benefit of RIT. Combined results are reported as well as subgroup analysis of GBM and AAF patients.
Conclusion
Adjuvant 125I-EGFR MAb 425 radioimmunotherapy is a safe and effective treatment for patients with high-grade glioma and warrants further study with a randomized trial.