15.07.2016 | Original Article | Ausgabe 3/2016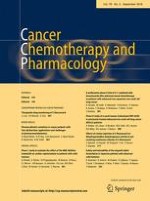 A phase II study of the HSP90 inhibitor AUY922 in chemotherapy refractory advanced pancreatic cancer
Zeitschrift:
Autoren:

D. J. Renouf, D. Hedley, M. K. Krzyzanowska, M. Schmuck, L. Wang, M. J. Moore
Abstract
Objectives
AUY922 is a novel heat shock protein inhibitor with preclinical activity in pancreatic cancer. This phase II study evaluated the efficacy of AUY922 in patients with advanced pancreatic cancer previously treated with chemotherapy.
Methods
In this single-arm, Simon two-stage phase II trial, patients with metastatic or locally advanced pancreatic ductal adenocarcinoma who had progressed on at least one line of chemotherapy and were of good performances status (ECOG 0 or 1) were treated with AUY922 at a dose of 70 mg/m2 IV weekly. The primary endpoint was disease control rate (objective response and stable disease ≥16 weeks).
Results
Twelve patients were accrued, all of whom received treatment. At least possibly related ≥grade 3 adverse events included fatigue (8 %) and AST elevation (8 %). Ten patients were evaluable for response with 1 (10 %) having stable disease and 9 (90 %) progressive disease. The median progression-free survival was 1.6 months, and the median overall survival was 2.9 months.
Conclusions
AUY922 was not associated with significant efficacy in previously treated patients with advanced pancreatic cancer.