21.04.2018 | Original Research | Ausgabe 1/2018 Open Access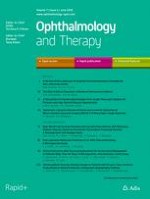 A Phase III Randomized Clinical Trial of a 0.5% Timolol + 0.2% Brimonidine + 2.0% Dorzolamide Fixed Combination, Preservative-Free Ophthalmic Solution vs. 0.5% Timolol + 0.2% Brimonidine + 2.0% Dorzolamide Fixed Combination in Patients with Controlled Primary Open-Angle Glaucoma
Zeitschrift:
Autoren:

Francisco Gómez-Aguayo, José A. Paczka, Rubén Leñero-Córdova, Jesús Jiménez-Román, Jaime Davila-Villarreal, Curt Hartleben, Leopoldo Baiza-Durán, Oscar Olvera-Montaño, Francisco García-Velez, Patricia Muñoz-Villegas
Wichtige Hinweise
Enhanced digital features
Abstract
Introduction
The aim of this prospective crossover study was to evaluate the non-inferiority of PRO-122 (a preservative-free fixed combination) compared with 0.5% timolol + 0.2% brimonidine + 2.0% dorzolamide fixed combination (KOF) by evaluating its efficacy, tolerability and safety in subjects with controlled primary open-angle glaucoma (POAG) previously treated with KOF for at least 2 months.
Methods
In a prospective, crossover, randomized, double-masked multicenter study, patients previously treated with KOF were randomly assigned to receive either PRO-122 or KOF for 30 days. On day 31, the A sequence changed to KOF, while the B sequence received PRO-122. All patients remained in the protocol for 30 additional days for a total of 60 days. The main efficacy endpoint was maintaining the controlled intraocular pressure (IOP). The safety and tolerability of both products were assessed by the presence of adverse events (AEs), ocular findings, a questionnaire on ocular comfort and the VF-14 index.
Results
A total of 51 patients participated. After application of PRO-122 twice a day, its efficacy was demonstrated through maintenance of the controlled IOP in patients previously controlled with KOF. The crossover between PRO-122 and KOF and vice versa, after 30 days of use, did not affect IOP control. PRO-122 was shown not to be inferior to KOF in maintaining IOP at control levels. The safety of both drugs is similar, as neither presented drug-related AEs or differences regarding safety issues. The tolerability of the two medications—evaluated by ocular findings, the questionnaire on ocular comfort and the VF-14 index—was also determined to be similar.
Conclusions
The controlled IOP in patients with controlled POAG treated with PRO-122 was maintained both in relation to the initial controlled IOP of the study and when compared with KOF in the B sequence. Finally, the treatment with PRO-122 demonstrated similar safety and tolerability to KOF.
Funding
Laboratorios Sophia, S.A. de C.V. (Zapopan, Jalisco, México).
Trial Registration
ClinicalTrials.gov identifier: NCT03257813 (registered retrospectively).