01.12.2017 | Research article | Ausgabe 1/2017 Open Access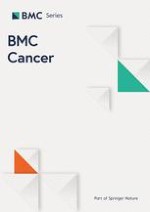 A pilot evaluation of magnetic resonance imaging characteristics seen with solid papillary carcinomas of the breast in 4 patients
Zeitschrift:
Autoren:

Lina Zhang, Ling Zhuang, Chang Shi, Yanwei Miao, Weisheng Zhang, Qingwei Song, Jianyun Kang, Zhijin Lang, Xuegang Xin, Ailian Liu, Jiani Hu
Abbreviations
ADC
Apparent Diffusion Coefficient
DCE
Dynamic Contrast Enhanced
DWI
Diffusion Weighted Imaging
FSPGR
Spoiled Gradient Echo Fat Saturation
MRI
Magnetic Resonance Imaging
MRS
Magnetic Resonance Imaging
SPC
Solid Papillary Carcinoma
Background
Papillary carcinomas constitute 1–2% of breast carcinomas in women. Solid papillary carcinoma (SPC) is a rare variant of papillary carcinoma with unique pathological morphology and biological behavior [
1
,
2
] and has recently been classified as a new category of breast papillary carcinoma by the World Health Organization (2012), differentiating it from the previous classification as a type of intraductal papillary carcinoma [
1
,
3
–
5
]. Although still under investigation, the prognosis of SPC seems to be better than that of intraductal papillary carcinoma (the most common papillary tumor) because of SPC's unique pathological pattern [
1
–
3
].
Pathologically, SPC is characterized by round, well-defined nodules composed of densely low-grade ductal cells separated by fibrovascular cores, leading to a morphologically solid growth pattern at low magnification [
1
,
2
]. An underlying fibrovascular stromal network and a solid morphologic appearance are typically observed for SPC. This is in contrast to the papillary fronds covered by stratified columnar cells with uniform hyperchromatic nuclei seen in intraductal papillary carcinoma [
1
,
3
–
5
]. For Immunohistochemistry (IHC) analysis, neuroendocrine differentiation is commonly presented in SPC, but not in intraductal papillary carcinoma [
1
,
3
].
MRI is widely used to examine breast lesions, including many varieties of papillary tumors [
4
–
8
]. However, there is only one case report on T
1
-MRI of SPC [
9
]. The paucity of SPC imaging research is likely due to the relatively new classification of SPC as a unique papillary tumor. Therefore, this study aims to fill the gap in the current MRI knowledge of SPC by examining this papillary carcinoma using multiple MR image modalities including T
1
W and T
2
W MRI, DCE-MRI, DWI and MRS.
Methods
Patient selection
Four SPC patients treated in our center between January 2010 and September 2014 were included in this study. This was a single institution retrospective study approved by the ethics committee of First Affiliated Hospital of Dalian Medical University (Dalian, China). The requirement of written informed consent was aquired. All patients were diagnosed as SPC in situ through pathology after breast conserving therapy (case 2) or modified radical mastectomy (case 1, 3, and 4). Stage of the patients were PT1N0M0 (Case 1 and 3) and PT2N0M0 (Case 2 and 4) indicating no lymph node involvement. It is important to note that one patient (case 3) had a conservation surgery in 2010 due to the presence of a mucinous carcinoma composited with invasive ductal components at a different site within the same breast, while the other three patients had no breast operation history. All patients had a unilateral lesion.
MR imaging
All MR examinations were performed on a 1.5 T whole-body MR scanner (Signa, Excite, HDx, General Electric Healthcare, Milwaukee, WI) with a dedicated 8-channel breast coil.
The MRI protocols were as follows: 1) conventional MR scan sequences included axial T
1
fat-saturation spoiled gradient recalled echo (FSPGR), sagittal fat-saturation FSE T
2
WI, and axial short Tau Inversion Recovery (STIR) with the imaging parameters listed in Table
1
; 2) Axial dynamic 3D T
1
FSPGR (Volume Imaging for Breast Assessment, VIBRANT) sequence (total 8 phases, acquisition time = 57 s/one phase) performed after Gadolinium injection given via a catheter placed in the antecubital vein via a power injector at a rate of 2.0 ml/s with a dose of 0.1 mmol/kg followed by 20 ml saline. The first acquisition started 25 s after contrast injection; 3) DWI (b = 1000s/mm
2
) with repetition time/echo time (TR/TE) of 6050 ms/84.3 ms, slice thickness/slice spacing of 5 mm/1 mm, FOV of 30 × 32 cm
2
and reconstruction matrix size of 256 × 256; and 4) Single voxel point resolved spectroscopy (PRESS)
1
H–MRS sequence (TR/TE = 1000 ms/144 ms, NEX = 1, reconstruction matrix size = 16 × 16, acquisition time = 260 s).
Table 1
Conventional MRI scanning parameters
| Sequence | TR (ms) | TE (ms) | TI (ms) | Slice thickness (mm) | Slice spacing (mm) | FOV (cm × cm) | Matrix | Nex |
| --- | --- | --- | --- | --- | --- | --- | --- | --- |
| T 1 FSPGR | 3.0 | 1.2 | 7 | 2.1 | 0 | 30–32 | 448 × 350 | 1 |
| Fat saturation T 2WI FSE | 2860 | 88.4 | / | 5 | 1 | 20–24 | 256 × 192 | 3 |
| STIR | 3620 | 75.7 | 160 | 5 | 1 | 30–32 | 288 × 224 | 1 |
DWI and
1
H–MRS were both performed before contrast injection. As
1
H MRS has become an adjunct to dynamic contrast enhanced MRI (DCE-MRI) in the clinical evaluation of breast lesions [
10
], MRS is added to our protocol to investigate the performance of MRS in SPC diagnosis.
Image analysis
All images were transferred to a GE workstation (Advantage Windows 4.5; General Electric, Madison, WI, USA) for image processing and were interpreted by two radiologists with more than five years of diagnostic experience. Consensus was reached on cases in which there was a diagnostic discrepancy between the two readers, which was used in the final MRI analysis. The following lesion characteristics were recorded: 1) signal intensity on T 2WI/STIR and T 1 FSPGR, 2) morphology and maximum lesion size on dynamic contrast enhancement MRI (DCE-MRI), 3) time intensity curve (TIC) from DCE-MRI, 4) apparent diffusion coefficient (ADC) value from DWI, 5) Cho peak from MRS.
Results
The age of the four patients ranged from 66 years old to 79 years old. Clinical findings including patient age, location, bloody nipple discharge, and duct ectasia are listed in Table
2
. For cases 1, 3, and 4, all lesions were located in the medial quadrant of the breast. For case 2, the lesion was located in the lateral quadrant of the breast. For cases 1 and 4, patients had bloody nipple discharge accompanied by duct ectasia. For cases 2 and 3, the patients showed no bloody nipple discharge and had no dilated ducts. Histography and IHC results are shown in Fig.
1
a-d. Case 2 and 4 were associated with a mucinous component on pathology. No lymph node metastasis was found in any case, and all cases showed no evidence of metastasis or recurrence at one-year follow up.
Table 2
Clinical findings of SPCs
| Case | Age (years) | Location (quadrant) | Bloody nipple discharge | Duct ectasia |
| --- | --- | --- | --- | --- |
| 1 | 66 | right medial | yes, 20 days | yes |
| 2 | 70 | right lateral | no | no |
| 3 | 72 | right medial | no | no |
| 4 | 79 | left medial | yes, half year | yes |
×
The maximum lesion sizes ranged from 0.8 cm to 3.2 cm among 4 patients. Features of the lesions extracted from conventional MRI are listed in Table
3
. All lesions showed hypo-iso signal intensities on T
1
FSPGR sequence (Fig.
2a
,
3a
,
4a
), and iso-hyper signal intensities on T
2
WI and STIR sequence (Fig.
2b
,
3b
,
4b
,
5a
). On DCE-MRI, all lesions showed mass enhancement with oval (cases 1 and 2, Fig.
2c
,
4c
) and irregular (cases 3 and 4, Fig.
3f
,
5f
) shapes, and margins were circumscribed (Fig.
2c
,
4c
). Furthermore, internal enhancement was homogeneous in cases 1 (Fig.
2c
) and heterogeneous in cases 2,3 and 4 (Fig.
4c
). TIC showed rapid initial enhancement (90s) followed by plateau delayed enhancement in cases 1 and 2 (Fig.
2e
), while rapid initial enhancement with washout delayed enhancement was observed in cases 3 and 4 (Figs.
3d
,
5c
).
Table 3
Conventional MRI findings of SPCs
case

Maximumlesion size(cm)

T 2WI/STIR

T 1 FSPGR-c

Mass enhancement

Shape

Margin

Internal enhancement

1

0.8

Iso-hyper

hypo-Iso

oval

circumscribed

homogeneous

2

2

Iso-hyper

hypo-Iso

oval

circumscribed

heterogeneous

3

0.8

Iso-hyper

hypo-Iso

irregular

circumscribed

heterogeneous

4

3.2

Iso-hyper

hypo-Iso

irregular

circumscribed

heterogeneous
×
×
×
×
Discussion
Conclusion
In conclusion, SPC MRI is characterized by heterogeneous signal intensity within the lesion, mass enhancement with circumscribed margins, either oval or irregular shapes, and the presence of a rapid enhancement in initial contrast phases. Moreover, high ADC values and the absence of Cho peak may provide valuable information for distinguishing SPC from other invasive breast carcinomas.
Acknowledgements
The scientific guarantor of this publication is Ailian Liu. We would like to thank Shaowu Wang who provided general support. We would like to thank Mr. Michael G. Marion and Mr. Nicholas Guys for proof reading the manuscript. The authors of this manuscript declare no relationships with any companies whose products or services may be related to the subject matter of the article. No complex statistical methods were necessary for this paper.
Funding
The authors state that this work has not received any funding.
Availability of data and materials
Author's contributions
LNZ, LZ, ALL, and JNH conceived the study. LNZ and LZ contributed equally to this work. CS participated in the pathological workup. YWM, WSZ, and QWS participated in the sequence alignment and scanned. JYK collected the clinical materials and MR data. ZJL and XGX processed and analyzed the data. LNZ, LZ and JNH wrote the manuscript. All authors have reviewed and approved the manuscript.
Ethics approval and consent to participate
This retrospective study was approved by the Institutional Ethics Committee of First Affiliated Hospital of Dalian Medical University (Dalian, China), and performed in accordance with the ethical guidelines of the Declaration of Helsinki. Animals were not used in this study. Informed consent to participate in the study have been obtained from all patients. Availability of data and materials in our study have not been previously reported.
Consent for publication
We had all necessary consent from the patients described in the paper, including patients' consent to participate in the study and patients' consent to publish.
Competing interests
The authors declare that they have no competing interests.
Publisher's Note
Springer Nature remains neutral with regard to jurisdictional claims in published maps and institutional affiliations.
Open Access
This article is distributed under the terms of the Creative Commons Attribution 4.0 International License (
http://​creativecommons.​org/​licenses/​by/​4.​0/​
), which permits unrestricted use, distribution, and reproduction in any medium, provided you give appropriate credit to the original author(s) and the source, provide a link to the Creative Commons license, and indicate if changes were made. The Creative Commons Public Domain Dedication waiver (
http://​creativecommons.​org/​publicdomain/​zero/​1.​0/​
) applies to the data made available in this article, unless otherwise stated.