01.12.2017 | Research article | Ausgabe 1/2017 Open Access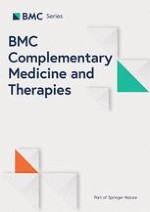 A pilot randomized controlled trial of acupuncture at the
Si Guan Xue

for cancer pain
Zeitschrift:
Autoren:

To-Yi Lam, Li-Ming Lu, Wai-Man Ling, Li-Zhu Lin
Abstracts
Background
Pain is a common symptom in cancer patients. Acupuncture is a suggested treatment for a wide range of clinical conditions, usually for its beneficial effects on pain control.
Si guan xue
(the four points) have been widely used in clinical practice, and has shown that it is highly effective, effective in obtaining
qi
, shows strong acupuncture stimulation, and is simple to manipulate and safe to use. Therefore, the aim of this study is to test the protocol and safety of acupuncture at the
si guan xue
in the management of cancer pain.
Methods
This is a single-blind, randomized controlled pilot trial. 42 patients with moderate to severe cancer pain were randomly assigned to three different arms with seven sessions of treatment; that is, treatment arm 1 (the
si guan xue
arm,
n
= 14), treatment arm 2 (the
si guan xue
plus commonly used acupoints arm,
n
= 14) and the control arm (the commonly used acupoints arm
n
= 14). Primary outcomes included acupuncture relieving cancer pain, and patients' subjective improvement as measured by the Patient Global Impression of Change (PGIC). Secondary outcomes included the scores of the European Organization for Research and Treatment of Cancer Quality of Life Questionnaire-Core 30 (EORTC QLQ-C30) and Karnofsky's Performance Status (KPS).
Results
The analysis showed that the cancer pain reduction in treatment arm 2 was most prominent on day 5 when compared with the control arm (
P
<0.05). There was no difference in the scores of PGIC, EORTC QLQ-C30 or KPS among the three groups (
P
>0.05). Furthermore, no serious adverse events were observed.
Conclusions
These results indicate that acupuncture at the
si guan xue
plus commonly used acupoints tends to be effective in reducing cancer pain. However, the sample size was small, and a future multi-centre study with a larger sample size is warranted.