01.09.2016 | Regular Article | Ausgabe 5/2016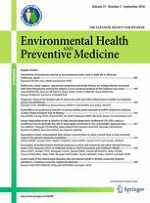 A pilot study of the relationship between diet and mental health in female university students enrolled in a training course for registered dietitians
Zeitschrift:
Autoren:

Kazumi Dokai Mochimasu, Nobuyuki Miyatake, Ayako Hase
Abstract
Objective
The purpose of the present pilot study was to investigate the link between diet and mental health in female university students enrolled in a training course for registered dietitians.
Subjects and methods
A total of 62 female university students, with a mean age of 18.79 ± 0.45 years, participated in this cross-sectional study. Diet surveys were performed using the brief-type self-administered diet history questionnaire (BDHQ). Mental health was also evaluated using the general health questionnaire-12 (GHQ-12), which was the shortest form and clinically available. Lifestyles such as physical activity levels were also evaluated.
Results
The mean energy intake was 1379 ± 575 kcal and the mean GHQ score was 3.11 ± 2.41. Among nutrients, vegetable fat and sucrose showed a weak positive correlation with the GHQ scores. Among food groups, potatoes, fats and oils, and confectioneries also showed a weak positive correlation with the GHQ scores. A multiple regression analysis showed that the confectioneries were the determining factor for the GHQ scores.
Conclusion
Proper education concerning their diets and reducing confectioneries in their daily lives might be beneficial for the mental health of female university students.