01.12.2018 | Primary Research | Ausgabe 1/2018 Open Access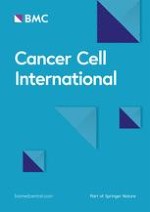 A possible role for selenoprotein glutathione peroxidase (GPx1) and thioredoxin reductases (TrxR1) in thyroid cancer: our experience in thyroid surgery
Zeitschrift:
Autoren:

Alessio Metere, Francesca Frezzotti, Claire Elizabeth Graves, Massimo Vergine, Alessandro De Luca, Donatella Pietraforte, Laura Giacomelli
Abstract
Background
Oxidative stress is responsible for some alterations in the chemical structure and, consequently, in the function of proteins, lipids, and DNA. Recent studies have linked oxidative stress to cancers, particularly thyroid cancer, but the mechanisms remain unclear. Here, we further characterize the role of oxidative stress in thyroid cancer by analyzing the expression of two selenium antioxidant molecules, glutathione peroxidase (GPx1) and thioredoxin reductase (TrxR1) in thyroid cancer cells.
Methods
Samples of both healthy thyroid tissue and thyroid tumor were taken for analysis after total thyroidectomy. The expression of GPx1 and TrxR1 was revealed by Western blot analysis and quantified by densitometric analyses, while the evaluation of free radicals was performed by Electron Paramagnetic Resonance (EPR)-spin trapping technique.
Results
Our results show a decrease in the expression of GPx1 and TrxR1 (− 45.7 and − 43.2% respectively, p < 0.01) in the thyroid cancer cells compared to the healthy cells. In addition, the EPR technique shows an increase of free radicals in tumor tissue, significantly higher than that found in healthy thyroid tissue (+ 116.3%, p < 0.01).
Conclusions
Our findings underscore the relationship between thyroid cancer and oxidative stress, showing the imbalance of the oxidant/antioxidant system in thyroid cancer tissue. These results suggest that either the inability to produce adequate antioxidant defense or an increased consumption of antioxidants, due to the hyper-production of free radicals, may play a crucial role in thyroid cancer.