28.01.2020 | Original Article | Ausgabe 3/2020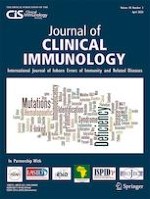 A Prevalent CXCR3+ Phenotype of Circulating Follicular Helper T Cells Indicates Humoral Dysregulation in Children with Down Syndrome
Zeitschrift:
Autoren:

Giorgio Ottaviano, Jolanda Gerosa, Micaela Santini, Pasqualina De Leo, Andrea Vecchione, Tatiana Jofra, Cristiana Trimarchi, Maurizio De Pellegrin, Massimo Agosti, Alessandro Aiuti, Maddalena Marinoni, Maria Pia Cicalese, Georgia Fousteri
Wichtige Hinweise
Electronic supplementary material
Giorgio Ottaviano, Jolanda Gerosa and Micaela Santini contributed equally to this work.
Publisher's Note
Springer Nature remains neutral with regard to jurisdictional claims in published maps and institutional affiliations.
Abstract
Patients with Down syndrome (DS) are characterized by increased susceptibility to autoimmunity and respiratory tract infections that are suggestive of humoral immunity impairment. Here, we sought to determine the follicular helper (Tfh) and follicular regulatory (Tfr) T cell profile in the blood of children with DS. Blood was collected from 24 children with DS, nine of which had autoimmune diseases. Children with DS showed skewed Tfh differentiation towards the CXCR3+ phenotype: Tfh1 and Tfh1/17 subsets were increased, while Tfh2 and Tfh17 subsets were reduced. While no differences in the percentage of Tfr cells were seen, the ratio of Tfh1 and CXCR3+PD-1+ subsets to Tfr cells was significantly increased in the affected children. The excessive polarization towards a CXCR3+ phenotype in children with DS suggests that re-calibration of Tfh subset skewing could potentially offer new therapeutic opportunities for these patients.