01.12.2016 | Research article | Ausgabe 1/2016 Open Access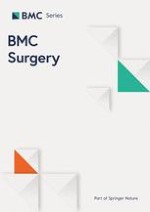 A proposed staging system for chronic symptomatic pilonidal sinus disease and results in patients treated with stage-based approach
Zeitschrift:
Autoren:

Ali Guner, Arif B. Cekic, Aydin Boz, Serdar Turkyilmaz, Uzer Kucuktulu
Wichtige Hinweise
Competing interests
The authors declare that they have no competing interests.
Authors' contributions
AG proposed a new staging system, performed surgeries for participant patients, conceived of the study and drafted the manuscript. ABC collected the data and helped to draft the manuscript. AB helped for surgery and data collection. ST participated in the design of the study and performed the analysis. UK conceived of the study, and participated in its design and coordination and helped to draft the manuscript. All authors read and approved the final manuscript.
Abstract
Background
Although there are many therapeutic options to manage patients with sacrococcygeal pilonidal sinus disease, there remains controversy over a gold standard method for treating such patients. Most studies regarding sacrococcygeal pilonidal sinus, collected patients in a single pool, and single modality was performed to all patients so far. Staging according to the progressive nature of disease and comparisons of stage-based treatment approaches are yet to be conducted. This study aimed to define a staging system and to evaluate outcomes with the use of stage-based treatment approach.
Methods
The collected data of patients who underwent surgery for the treatment of pilonidal sinus disease prior to June 2011 were analyzed. Following this analysis, a staging system was defined based on morphological extent of disease (stage I to stage IV for primary disease, and stage R for recurrent disease). Specific surgical technique was used for each stage. Between June 2011 and December 2014, 367 patients were operated based on proposed staging system and treatment algorithm. Demographics, perioperative data, short-term and long-term outcomes were evaluated according to the disease stage.
Results
For all patients, the median length of hospital stay was 1 (range, 0–4) day. Primary healing without any wound complications was achieved in 320 (87.2 %) patients. The median time to functional recovery was 10 (range, 2–35) days and for wound healing was 12 (range, 10–55) days. Disease recurrence was identified in six (1.6 %) patients within the median follow-up period of 29 (range, 5–47) months. The outcomes of each stage were evaluated separately.
Conclusions
We believe that the proposed staging system and stage-based treatment approach, which need further validation, will have an efficacy in the treatment of chronic pilonidal sinus disease and will contribute to the development of more appropriate individualized management approaches. Moreover, the use of this staging system will likely facilitate sharing and comparing more specific clinical data from future studies.