03.01.2019 | Rhinology | Ausgabe 4/2019 Open Access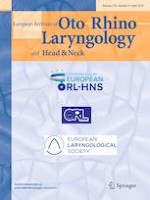 A prospective, non-randomized evaluation of a novel low energy radiofrequency treatment for nasal obstruction and snoring
Zeitschrift:
Autoren:

Detlef Brehmer, Robert Bodlaj, Friedemann Gerhards
Abstract
Background
Weak or inward-bent cartilage of the nasal sidewall at the level of the internal nasal valve (INV) can produce narrowness or collapse of the nasal valve. This is a common cause of impaired nasal breathing during daily activities and there is also an established connection between nasal obstruction and snoring. The condition is often difficult to treat, although even a small enlargement of the lumen at the nasal valve can lead to a significant improvement in the ease of nasal breathing.
Methods
The primary objective of this prospective study was to evaluate the safety and efficacy of the Vivaer system for the treatment of narrowed nasal valves and to measure changes in the symptoms of nasal obstruction and snoring. The Vivaer system uses low energy radiofrequency to remodel the nasal sidewall in order to improve airflow.
Results
The study involved 31 patients presenting from 1st September 2017 to 1st May 2018 with symptoms of nasal obstruction and snoring. In all patients, an improvement was observed in nasal breathing measured by NOSE score, sleep quality by SOS questionnaire and quality of life as measured by EQ-5D and SNOT-22.
Conclusion
Vivaer intranasal remodeling can provide a durable and well-tolerated non-invasive treatment for those patients who are suffering congestion due to narrowness or collapse of the INV.