01.12.2018 | Research article | Ausgabe 1/2018 Open Access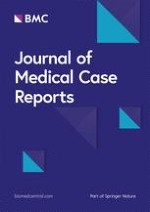 A prospective study of tinea capitis in children: making the diagnosis easier with a dermoscope
Zeitschrift:
Autoren:

Niema Aqil, Hanane BayBay, Kaoutar Moustaide, Zakia Douhi, Sara Elloudi, Fatima Zahra Mernissi
Abstract
Introduction
Tinea capitis is a scalp infection caused by different fungi. Etiological diagnosis is based on suggestive clinical findings and confirmation depends on the fungus growth in culture. However, it is not always possible to perform this test due to lack of availability. The association of clinical and dermatoscopic findings in suspected cases of tinea capitis may help the identification of the etiological agent, facilitating precocious, specific treatment.
Materials and method
We report a prospective descriptive analytical study of 34 children with tinea capitis. We performed a trichoscopic examination of all patients; only six children were able to have the mycological culture.
Results
Trichoscopy was abnormal in all 34 patients; it showed hair shaft abnormalities and, in some cases, scalp disorders too. We found that the comma and corkscrew appearance was found in microsporic tinea capitis, V-shaped hair was mainly seen in inflammatory tinea capitis, scales and follicular keratosis in non-inflammatory tinea capitis, and crusts and follicular pustules in inflammatory tinea capitis. Finally, erythema was seen in trichophytic and inflammatory tinea capitis.
Conclusion
We propose a classification of trichoscopic signs of tinea capitis. This classification will enable rapid diagnosis and prediction of the type of fungus before mycological culture, thus a faster and more adapted management.
Our study shows the importance of trichoscopy in the diagnosis and monitoring of tinea capitis. We suggest further prospective studies with a larger number of patients with tinea capitis, having performed mycological culture, to confirm this classification.