04.09.2015 | Original Article | Ausgabe 2/2016 Open Access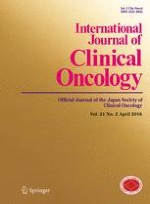 A prospective study of XELOX plus bevacizumab as first-line therapy in Japanese patients with metastatic colorectal cancer (KSCC 0902)
Zeitschrift:
Autoren:

Yutaka Ogata, Mototsugu Shimokawa, Takaho Tanaka, Yasunori Emi, Eiji Oki, Hiroshi Saeki, Noriaki Sadanaga, Tetsuya Kusumoto, Tetsuo Touyama, Masami Kimura, Hideo Baba, Yoshito Akagi, Kazuo Shirouzu, Yoshihiko Maehara, Kyushu Study Group of Clinical Cancer (KSCC)
Abstract
Background
This study was designed to evaluate the efficacy and safety of XELOX plus bevacizumab in a Japanese metastatic colorectal cancer population that included elderly patients.
Methods
This was a multicenter, single-arm, open-label prospective study. The major inclusion criteria were previously untreated metastatic colorectal cancer, presence of measurable lesions, age ≥20 years; Eastern Cooperative Oncology Group performance status of 0–2, and adequate organ function. Patients received bevacizumab (7.5 mg/kg on day 1) and XELOX (130 mg/m2 oxaliplatin on day 1 plus 1,000 mg/m2 capecitabine b.i.d. on days 1–14) every 3 weeks. The primary endpoint was confirmed objective response rate.
Results
The study included 47 patients (male/female 30/17; median age 69 years; age range 38–81 years with 10 patients ≥75 years; PS 0/1/2, 40/5/2) enrolled between May 2010 and March 2011. Responses were assessed in 46 eligible patients. The objective response rate was 52.2 % (95 % confidence interval [CI] 37.0–67.1). The median progression-free survival and overall survival were 10.0 months (95 % CI 7.8–12.3) and 34.6 months (95 % CI 19.9–not estimable), respectively. Frequently encountered grade 3 and 4 adverse events in this study were aspartate aminotransferase elevation (23.4 %), alanine aminotransferase elevation (21.3 %), anorexia (12.8 %), neutropenia (10.6 %), fatigue (8.5 %) and anemia (6.4 %). Grade 3 or 4 peripheral neuropathy was not observed.
Conclusion
First-line treatment with XELOX plus bevacizumab showed a promising response rate and an acceptable tolerability profile in the clinical practice of Japanese metastatic colorectal cancer patients that included elderly patients.
Registry
UMIN-CTR, ID number: UMIN000003915, URL:https://upload.umin.ac.jp/cgi-open-bin/ctr/ctr.cgi?function=brows&action=brows&type=summary&recptno=R000004706&language=E