05.08.2019 | Rehabilitation and Musculoskeletal Health / Original Article | Ausgabe 3/2019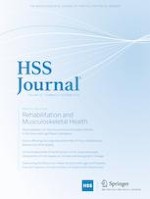 A Protocol of Pose Avoidance in Place of Hip Precautions After Posterior-Approach Total Hip Arthroplasty May Not Increase Risk of Post-operative Dislocation
Zeitschrift:
Autoren:

PT, DPT, OCS Erica Fritz Eannucci, MD Brian T. Barlow, BS Kaitlin M. Carroll, MD Peter K. Sculco, MD Seth A. Jerabek, MD David J. Mayman
Wichtige Hinweise
Electronic supplementary material
Level of Evidence: Level IV: Retrospective Case Series
Abstract
Background
Post-operative rehabilitation after posterior-approach total hip arthroplasty (P-THA) includes the use of standard hip precautions, defined as no hip flexion beyond 90°, hip adduction, or hip internal rotation for 6 to 12 weeks after surgery (sometimes for life). Since they were first implemented in the 1970s, subsequent advances may have made standard hip precautions no longer necessary, although little evidence supports that hypothesis. A modified set of precautions, a "pose avoidance protocol," could be effective in enhancing recovery, but its effectiveness on early dislocation and post-surgical outcomes is not known.
Questions/Purposes
We sought to determine the functional recovery of patients on a pose avoidance protocol after P-THA according to levels of pain and patient satisfaction, rates of dislocation, the use of assistive devices, and a return to driving.
Methods
We conducted a retrospective, descriptive study of data from a consecutive case series of 164 patients treated by a single surgeon between January 2014 and December 2015. Patients who had undergone a primary uncemented P-THA were prescribed a pose avoidance protocol and followed for a minimum of 6 weeks. Exclusion criteria were patients with congenital hip dysplasia, revision THA, femoral neck fracture, rheumatoid arthritis, or neuromuscular disease. Changes to the rehabilitation protocol included elimination of the requirements to use elevated chairs, raised toilet seats, and abduction pillows for sleeping. Patients could resume driving at 2 and 3 weeks for left and right P-THA, respectively. The only motion restriction was avoiding the combination of hip flexion past 90°, hip adduction, and hip internal rotation. Patients could perform all other movements and to bear weight and stop using walking aids as tolerated. Patients completed a biweekly questionnaire to assess their functional recovery, opioid use, and pain levels.
Results
At 2 weeks after surgery, 80% of patients reported no pain, 86% did not require walking aids, and 92% were satisfied with their recovery. At 6 weeks after surgery, 89% of patients reported no pain. Patients returned to driving at a mean of 2.7 weeks after surgery. No patients had experienced a dislocation at 6 weeks of follow-up.
Conclusion
A pose avoidance rehabilitation protocol in this P-THA population was found to be safe and was associated with accelerated functional recovery and high patient satisfaction without increased risk of early post-operative dislocation.